Suspension Encyclopedia - OEM Valving Specs
This page is the beginning of my promise to bring free to consumer, objective information about suspensions to the masses. Over the past 2 months i have written down the valving info for some of the shocks i've rebuilt or tuned.
I will also be posting tons of linked suspension data from many popular kits and OEM setups, look for that soon.
FJ Cruiser Fox 2.5" Front Coilover
These had 600 lb springs on them and 8 hole linear piston. Rebound holes were .25 and comp holes were .344". 1/16" bleed hole.
Rebound
.8 x .020
.8 x .020
.95 x .015
1.1 x .015
1.25 x .012
1.35 x .012
1.425 x .010
1.6 x .010
Piston
1.8 x .012
.8 x .008 - Flutter
1.6 x .010
1.425 x .010
1.35 x .012
1.1 x .012
0.95 x .012
0.8 x .020
3g4r Total Chaos long travel spec front king coilover
Came with 500s, customer swapped to 650s. I think 600s would be more appropriate or 550s with less bleed. Had 3 bleed holes open with no set screws in place on kings standard high flow piston.
Rebound
All .010s
Piston
.012
.012
.08 Flutter, 1" diameter
.015
.016
.016
.016 (i know there arent 16s but they all measured .016)
2nd Gen Tacoma front king 2.5
600 lb springs, rebound 3 holes at .328 each, comp 6 holes at .375. 3 bleed holes open with no set screws in place. I am too lazy to write the full specs, these are thousandths of an inch and its kings standard valving layout.
12
12
12
15
15
15
15
Piston
12
12
10 - flutter
20
20
20
20
Fox 14" Coilover w/ sas tune
This was from a popular tuner, it had 30/90 with a flutter and 2 large bleed holes. On a 14x2.5 with DSC. I did not ride in the vehicle to verify performance.
2nd gen tacoma rear king 2.5
2 bleed holes open, 1 set screw.
8
8
8
10
10
10
piston
12
8 - flutter
12
12
12
12
12
lx470 king 2.5 rear with adjusters
These have a 2.0 res on them which is odd, i see this on 5g4r versions as well but not sure why. 2 bleed holes open 1 set screw
All 12s
piston
12
12
10 - flutter
15
15
15
15
15
Customer was complaining about how soft it was all around, has a dirtbike hitch carrier and it pogo's bad with the bike on the back even with the comp adjuster all the way firm.
Upon opening the shock i found lots of air and nitrogen was leaking past the IFP. I ended up just closing 1 of the bleed holes and rebuilding it with no air in the shock although i did consider swapping the comp side to all 15s.
5g4r king front 2.5 coilover with adjusters
3 bleed holes open. Came in pressurized to 135 psi. Leaked in the normal spot for kings, very small hose fittings. Not sure if these have been revalved or not as they did not match with the valving from the next set i did.
All 20s
piston
10
10
10 - flutter
18
18
18
18
.615 washer
rate plate
Customer complained they weren't getting enough shaft speed at low speeds which is crazy with 3 bleed holes. I ended up swapping the rebound stack to 15s for the first 3 and the comp to 8s for the first 2. I also closed 1 of the bleed holes, in my opinion on a mechanical advantage like an IFS front end 3 bleed holes is alot.
5g4r king bypasses rear 2.5
1 tiny bleed hole, this is standard for bypasses industry wide.
All 12s
piston
All 12s
5g4r king front 2.5 coilover with adjusters
Not sure if these have been revalved or not. 2 bleed holes, 1 set screw.
All 15s
piston
12
12
10 - flutter
15
15
15
15
15
1500 truck fox 2.5 w/ dsc rear smoothies
All 12s
piston - digressive style
bleed shim (sorry didnt measure total area)
1.8 x .008
0.8 x .015 flutter, probably to accomodate the DSC
all 8s
2nd gen tacoma +2" total chaos long travel spec coilover w/ dsc
2 large bleed holes on linear style piston
15
15
15
10
10
10
piston- photos below
8
6 - same 1.6" dia
.8 x .010 flutter
8 - same 1.6" dia
.8 x .010 flutter
10 - same 1.6" dia
10
12
10
10
20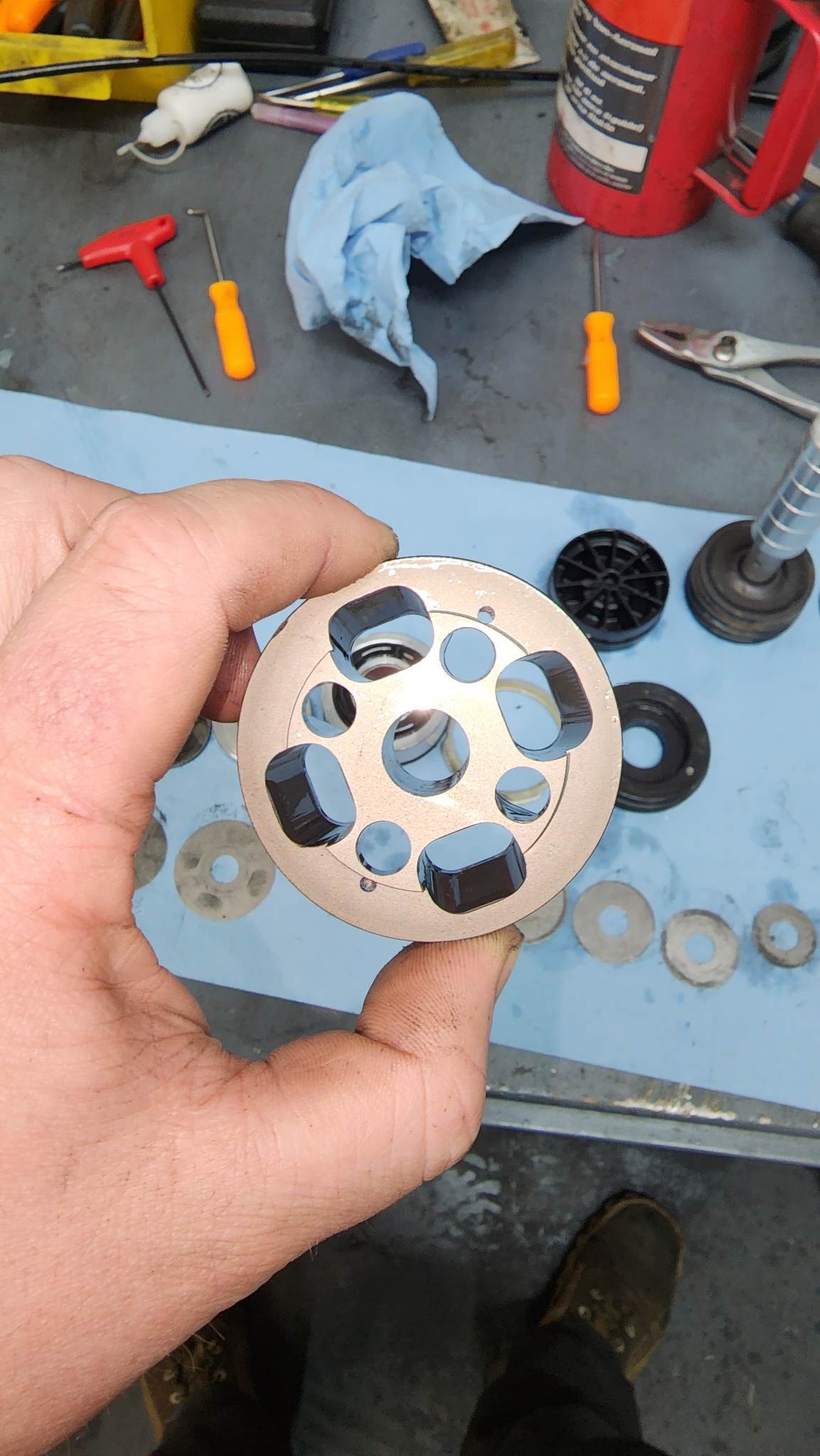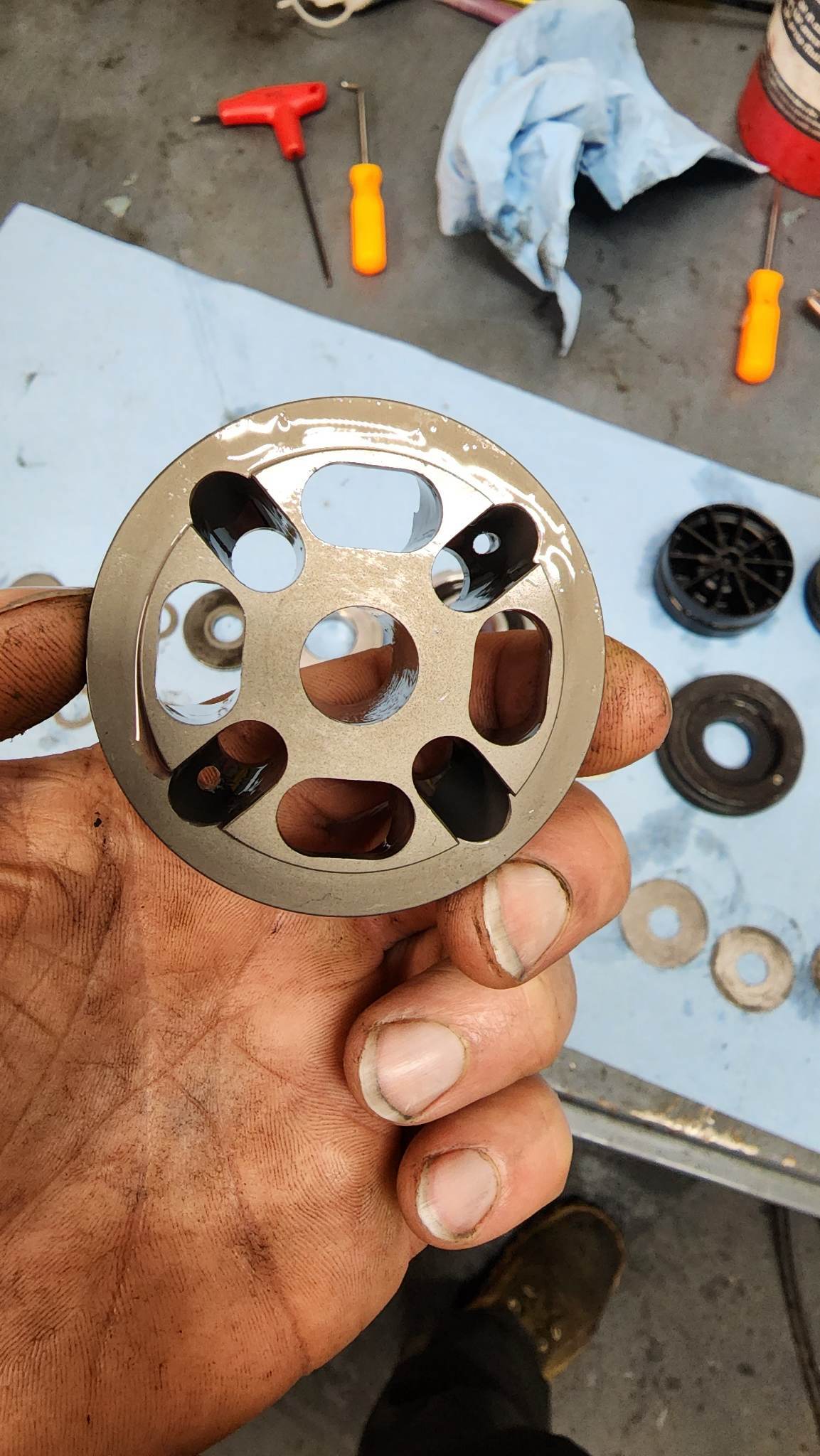 2nd gen tacoma fox 2.5 2 tube bypass, valved for spring under kit
1 small bleed hole
All 12s
piston
Dual .015 x 1.8 shims
all 15s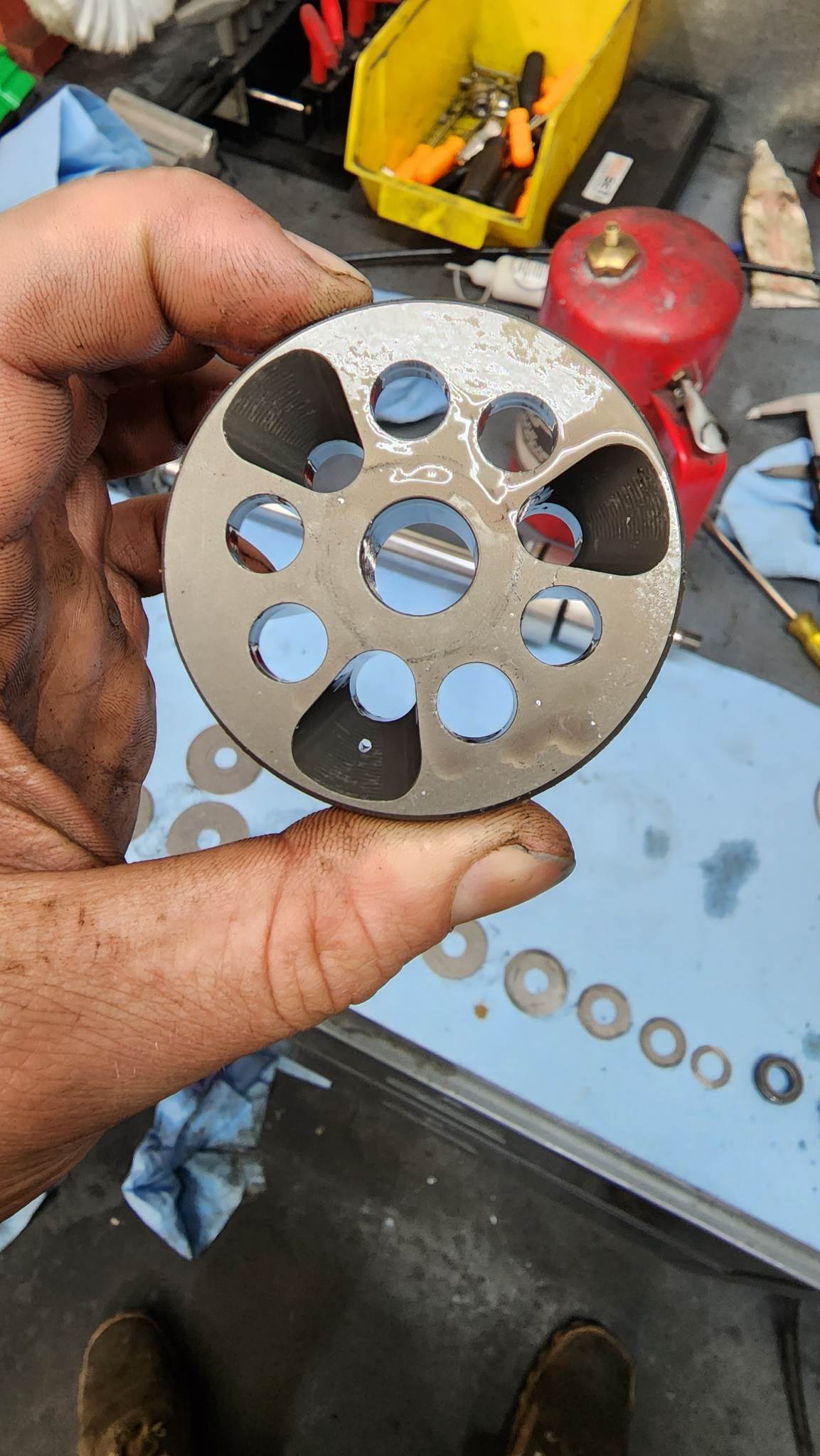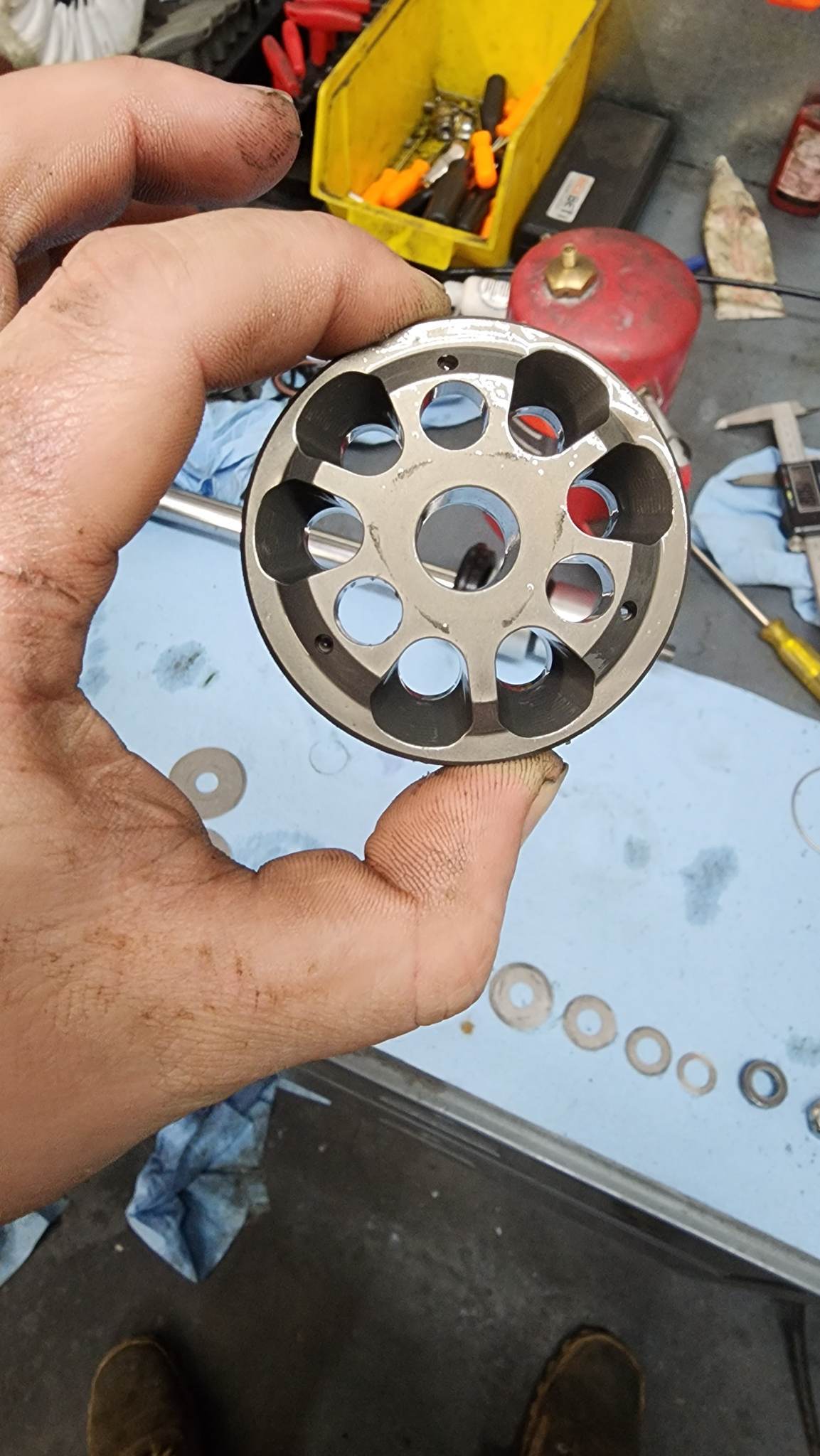 Bilsteins valving is notoriously complicated, here are the available stacks for various products.
All Bilstein valve stacks are listed by newtons of force at 0.52 m/s (around 20 in/s). Therefore 170/60 means it takes 1,700 newtons of force to move the shock on the rebound stroke at 0.52 m/s, and 600 on comp. Bilstein lists valving as rebound/compression, all other brands list it as comp/rebound.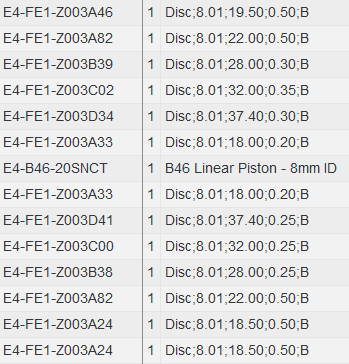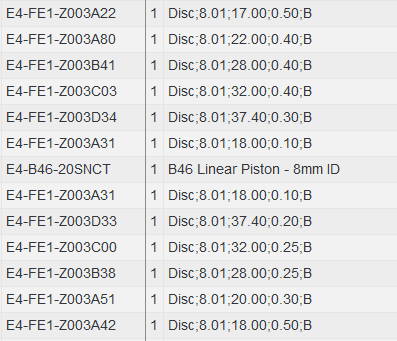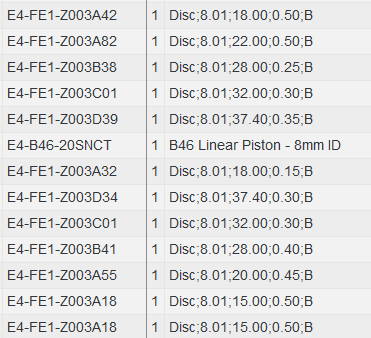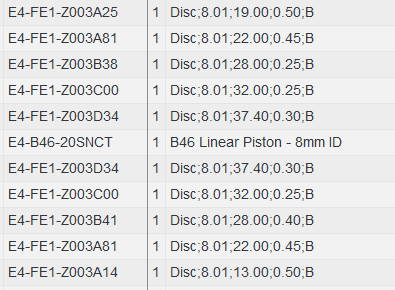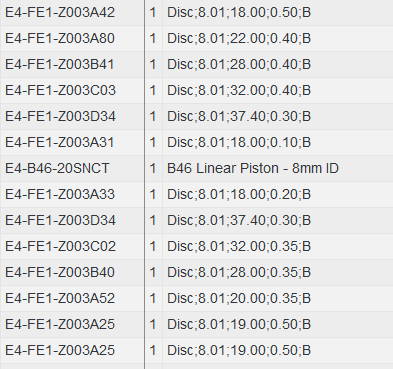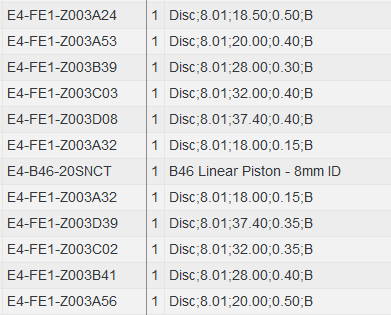 Unfortunately Bilsteins 60mm 8125s come valved at 370/110 which is possibly the worst universal valve spec of any brand. For solid axle swaps i suggest starting at 275/78 and slightly increasing the preload shim size (for less preload) and running much larger bleed disc, something around 18 mm squared total bleed area, for example 8 on rebound and 10 on comp.
9200 series coilovers come valved at 255/100 with a linear piston which is a really good starting point for solid axle swap front ends... although they only have 1 tiny bleed hole which could push it closer to digressive. Typically i will drill out the initial bleed hole and drill a second to around 1/16" or a bit more.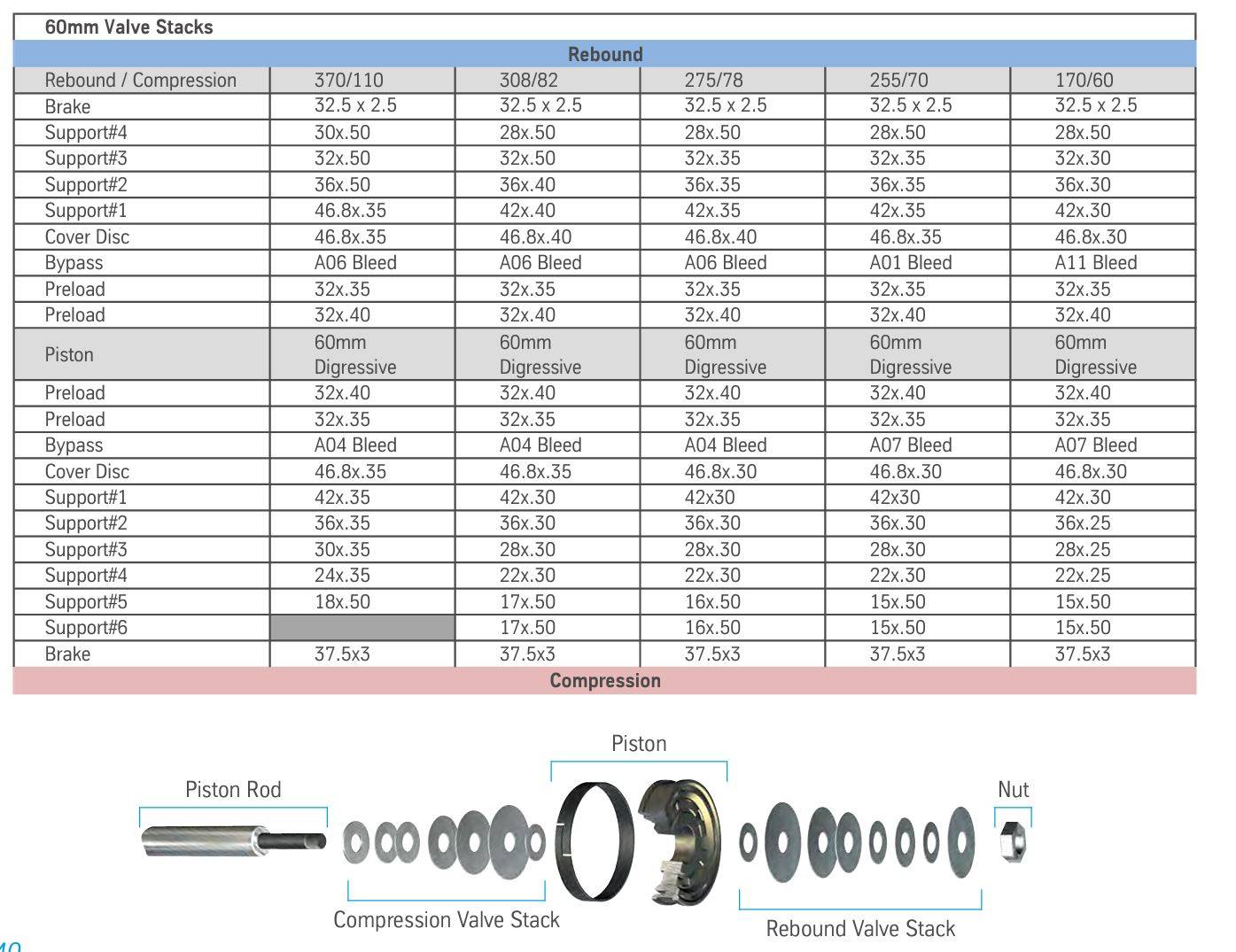 Ultimately, valving is subjective...
It's important to keep in mind that whatever a customer thinks feels good, is good. Despite having a finely tuned butt-dyno i still run into some situations where i prefer a different valving profile than a customer, which is totally fine.
To get shaft speed up over razr burn and nuissance rocks, bleed plays a huge role. Bilsteins digressive piston really struggles with shaft speed over stuff like that and requires large bleed discs to not rattle you apart on washboard. This is one of the complaints about the 8112 zone control stuff, that low speed suffers in the ride zone which is the opposite of what most bypasses offer. I typically revalve them to be close to linear or progressive even on at least compression.
A flutter on the compression side will also help with things like nuissance rocks and washboard as it reduces the initial lift-off force of the face shims.
There are plenty of general guides online about what adjustments to make when... my best advice is to go out and just do it for yourself, you will never learn it by only reading and 1 or 2 revalves will teach you alot. You cannot revalve a shock that needs rebuilt... you will not get a clear indication of the actual ride quality of the damper if it was in perfect operating conditions, so it will likely feel too soft because of air in the body. The damper must be in perfect working condition before you decide to change things around, often times folks request a revalve and find they are actually happiest with just a rebuild.
---