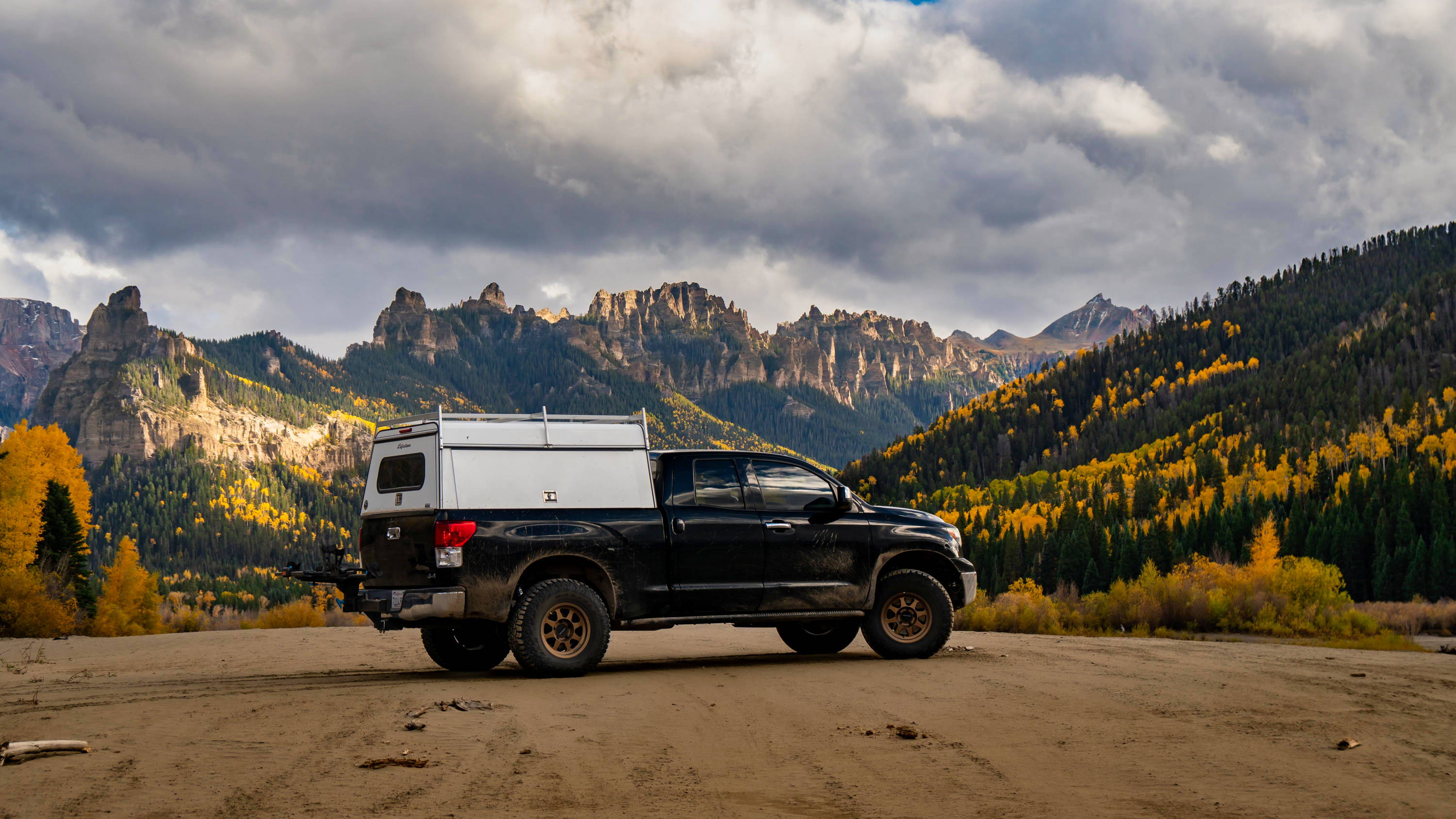 In early July of 2021 Brittany and I were eating a rushed dinner in the shop when we realized it had been almost 2 years since we took a break. Personally, I was hitting a wall... I was so burnt out that the years of 7 day work weeks were starting to sort of blur together, and the daily grind was hammering on my self resilience. We decided to put our life and business on hold for a few weeks and take some time to recharge and spend some quality time together. Our goal was to see lots of new places, make some new friends, and try and find potential locations to move to in the future when we leave California.
We spent about a month living out of our craigslist utility shell, explored 8 states and got 2 oil changes on the road. Had to weld up a hole in the motor in Colorado and almost lost the camper shell off the back a few times among some other minor issues.
But this story doesn't quite start on the road, we had to build the truck first.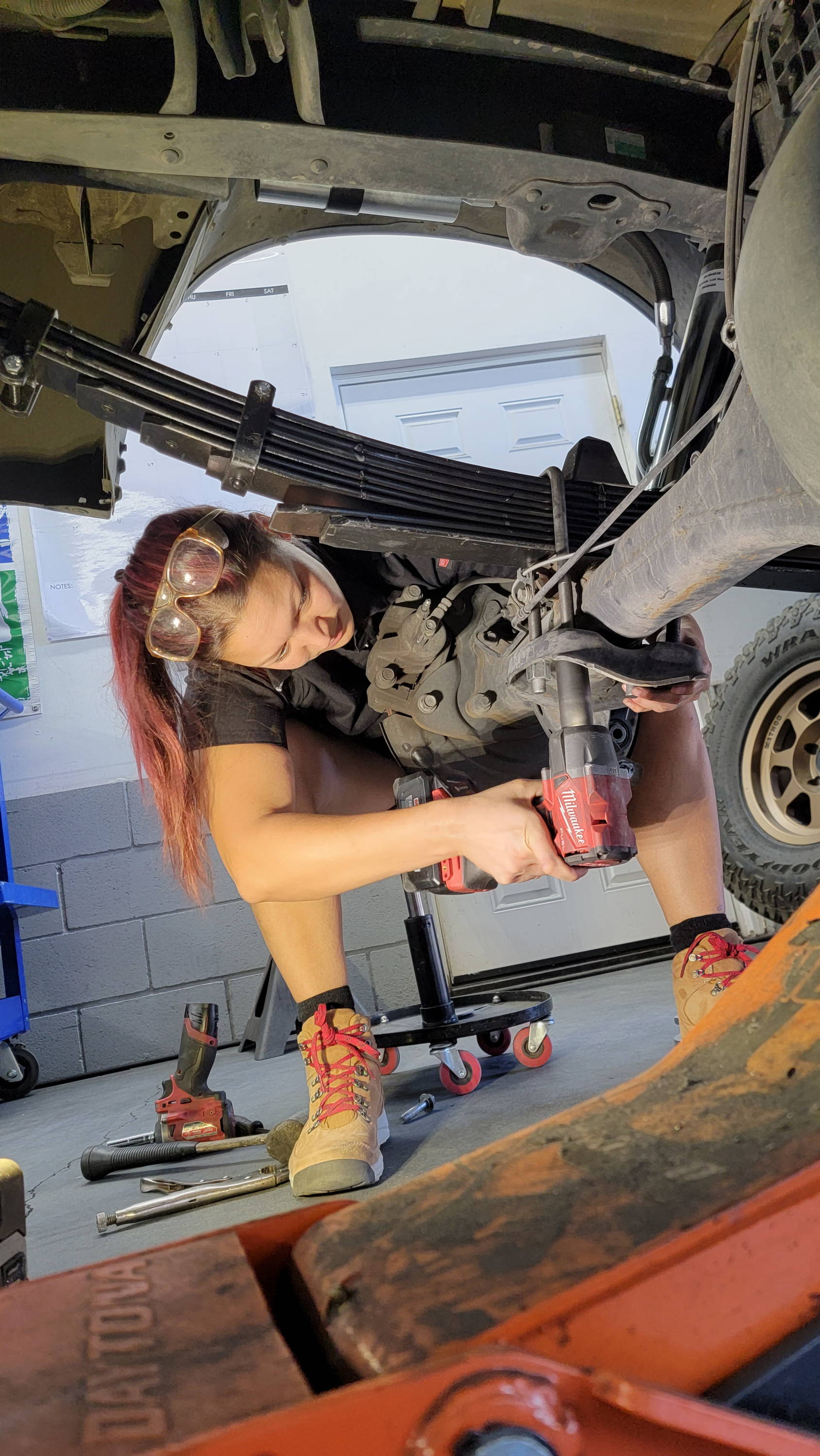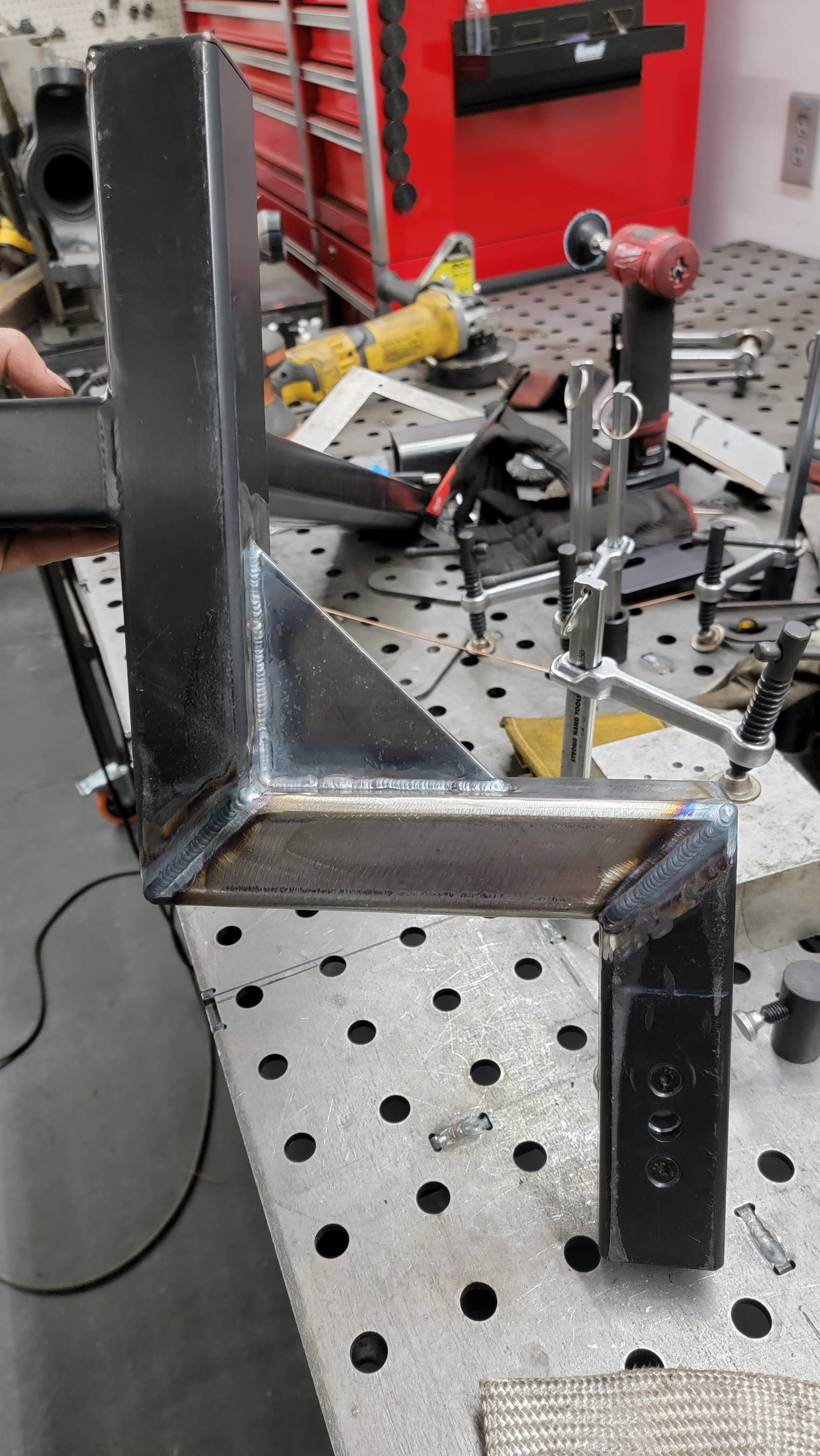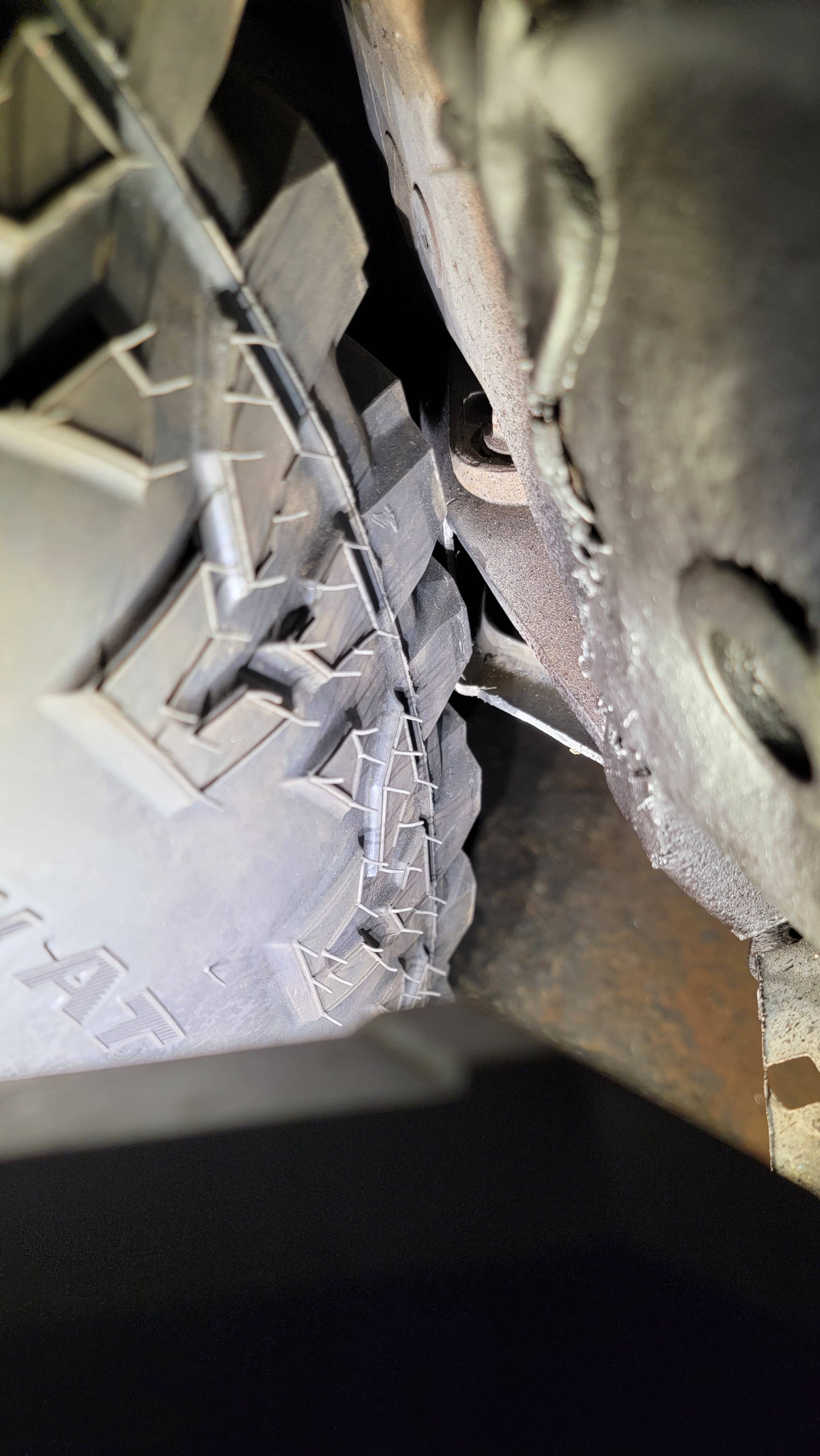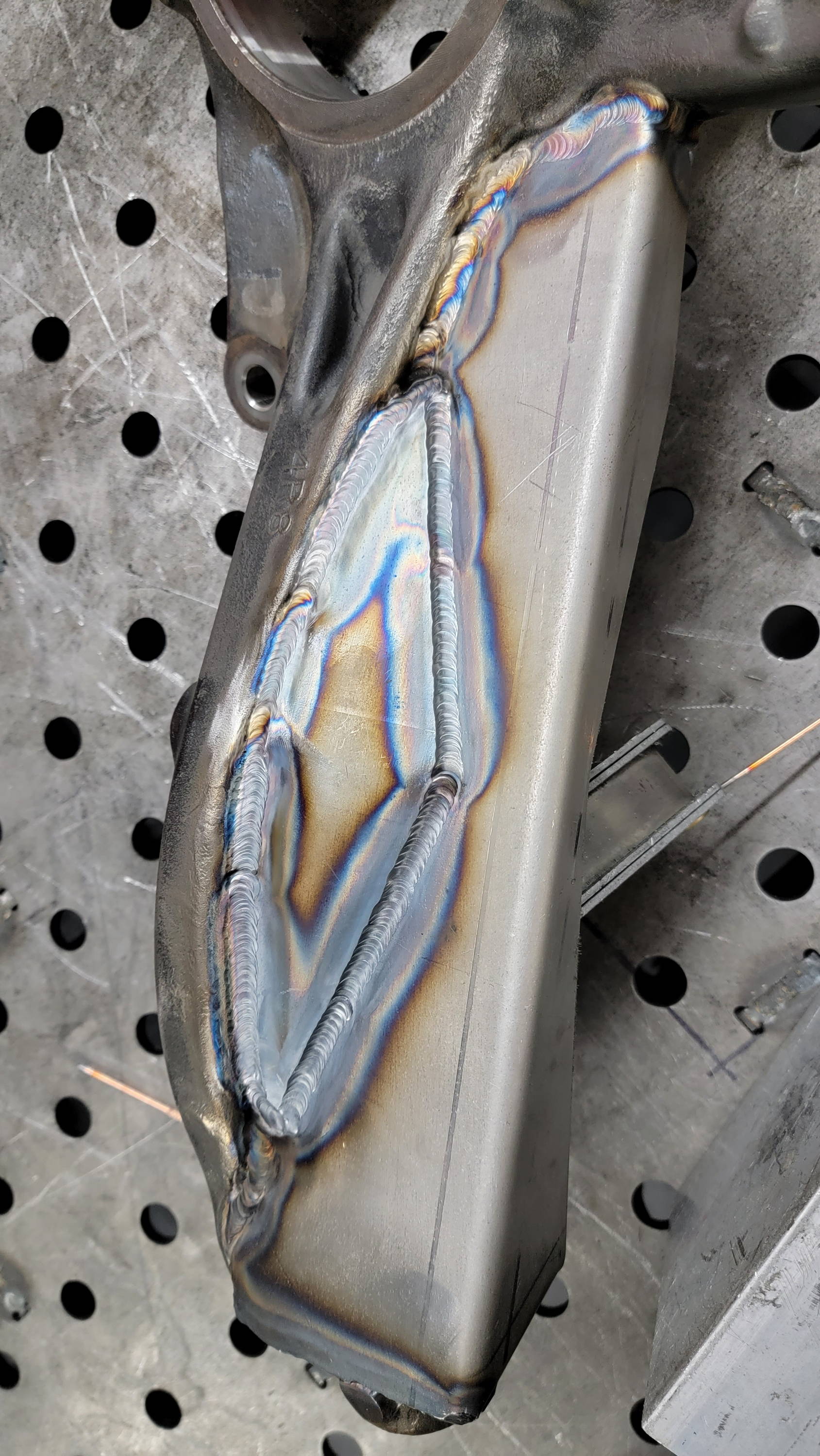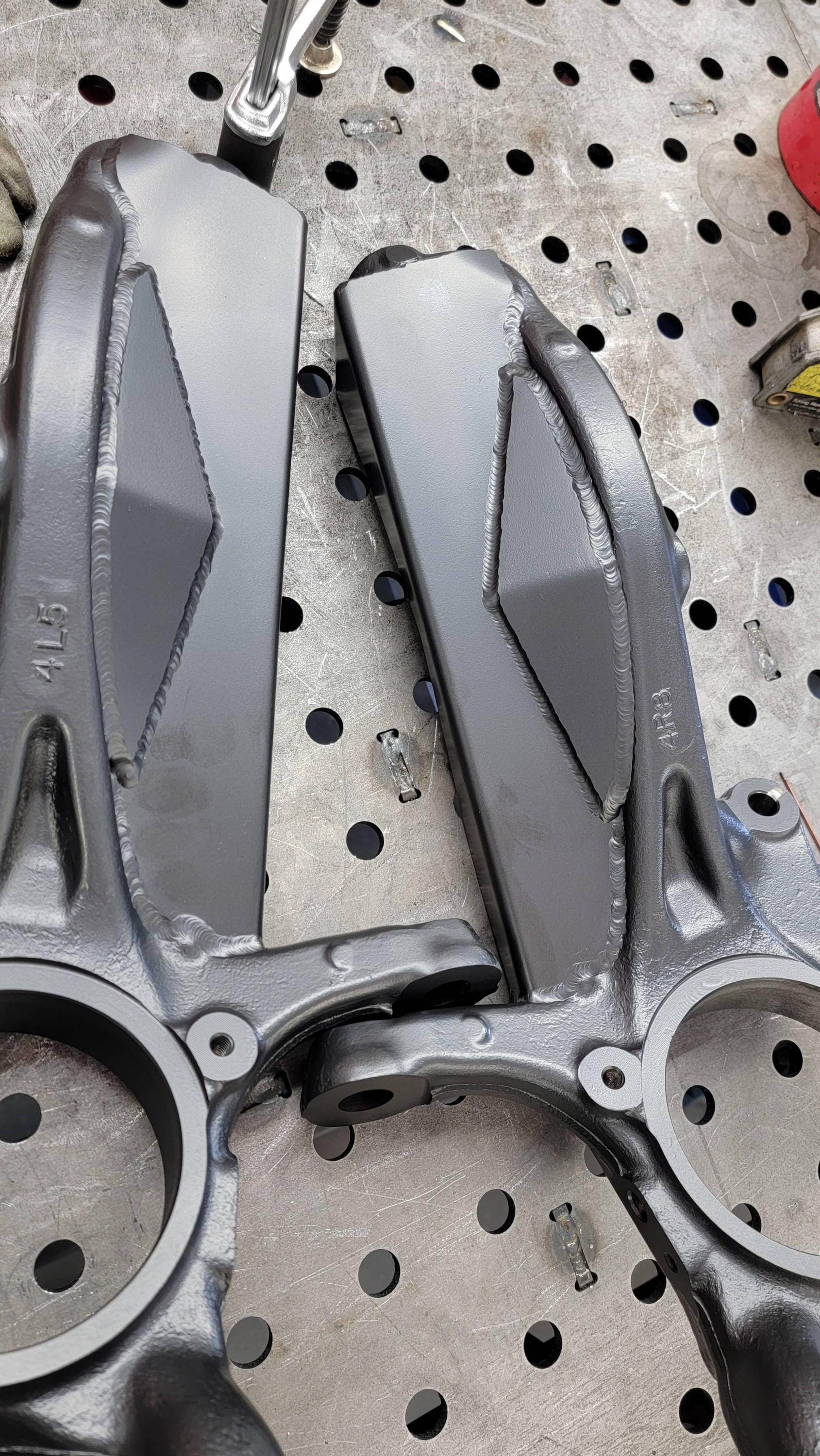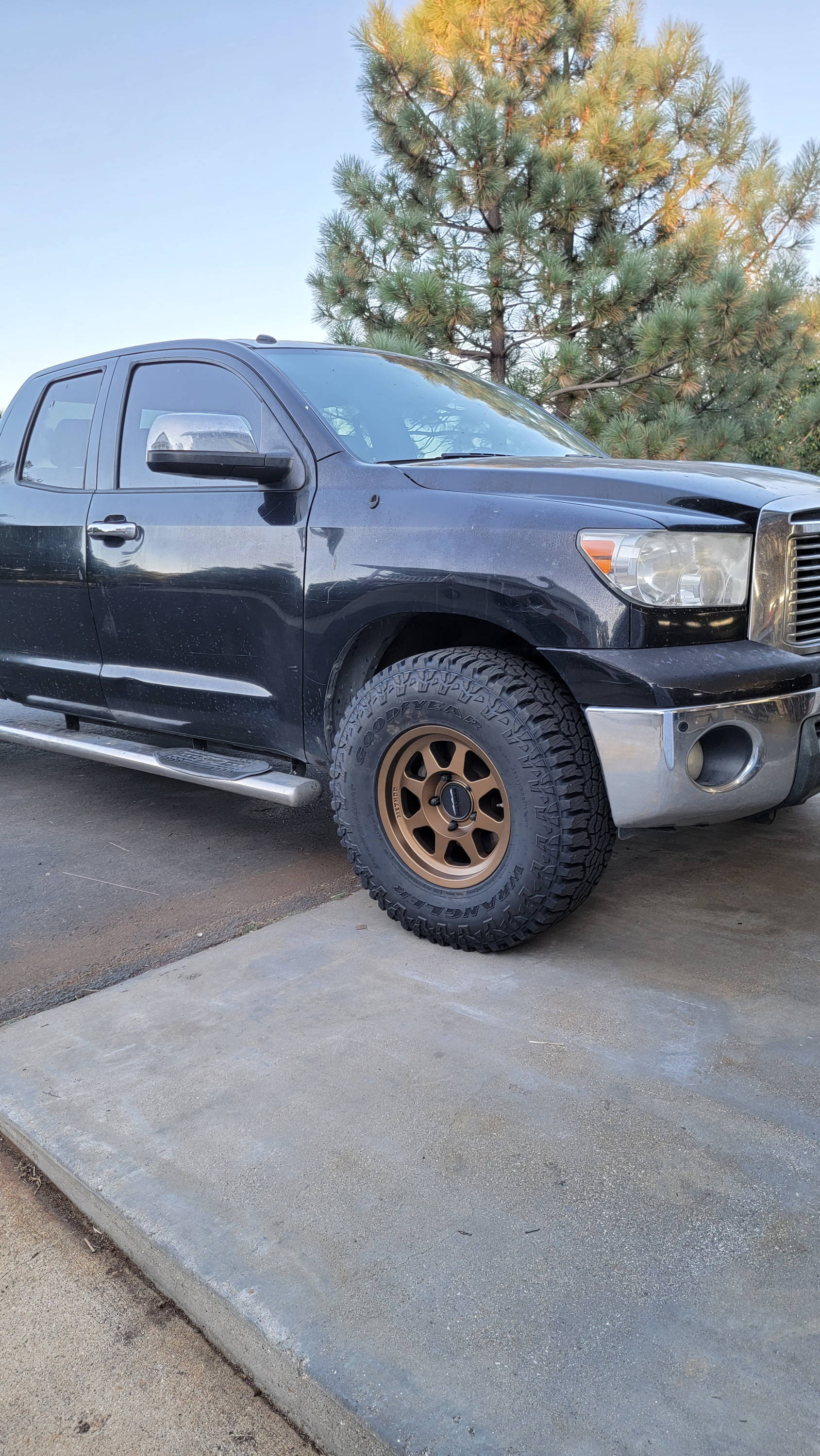 We had quite the laundry list of things to do before heading out. About a month before deciding to go on this trip we had purchased a 2012 tundra which is by far both the newest and most expensive vehicle either of us have ever owned. It was decided we would stick to more "soft-roading" overland style trails which would give us an opportunity to bring our mountain bikes out as well, which is a new hobby for us but something we really enjoy. Knowing that a stock truck would not cut it for this trip we had a lot to do.
Our goals were to install a ton of stuff to make this trip do-able before we left, including; front coilovers, rear shocks, rear leaf springs, a dual battery setup, cam tab gussets, spindle gussets, a bed shell of some kind, L track tie downs in the bed, a swingout bike rack (with a 6" riser so we weren't smashing it off road), rock sliders, full skids under the truck, and new wheels and tires... Oh yeah, and we had 4 days to get all of this done before leaving. To make matters worse I had started to learn to tig weld 4 months earlier and decided this time crunch was the perfect time to use a welding style I am unfarmiliar with and that takes much much longer than mig...
We ended up leaving about 48 hours after our scheduled departure time which is fairly standard practice for us. We hit the road late in the day tying up some loose ends and spent that night camped on some BLM outside of Vegas. After a restful 3.5 hours of sleep we headed for Moab as the goal for that night, taking the scenic route through the 12 and 24 freeway.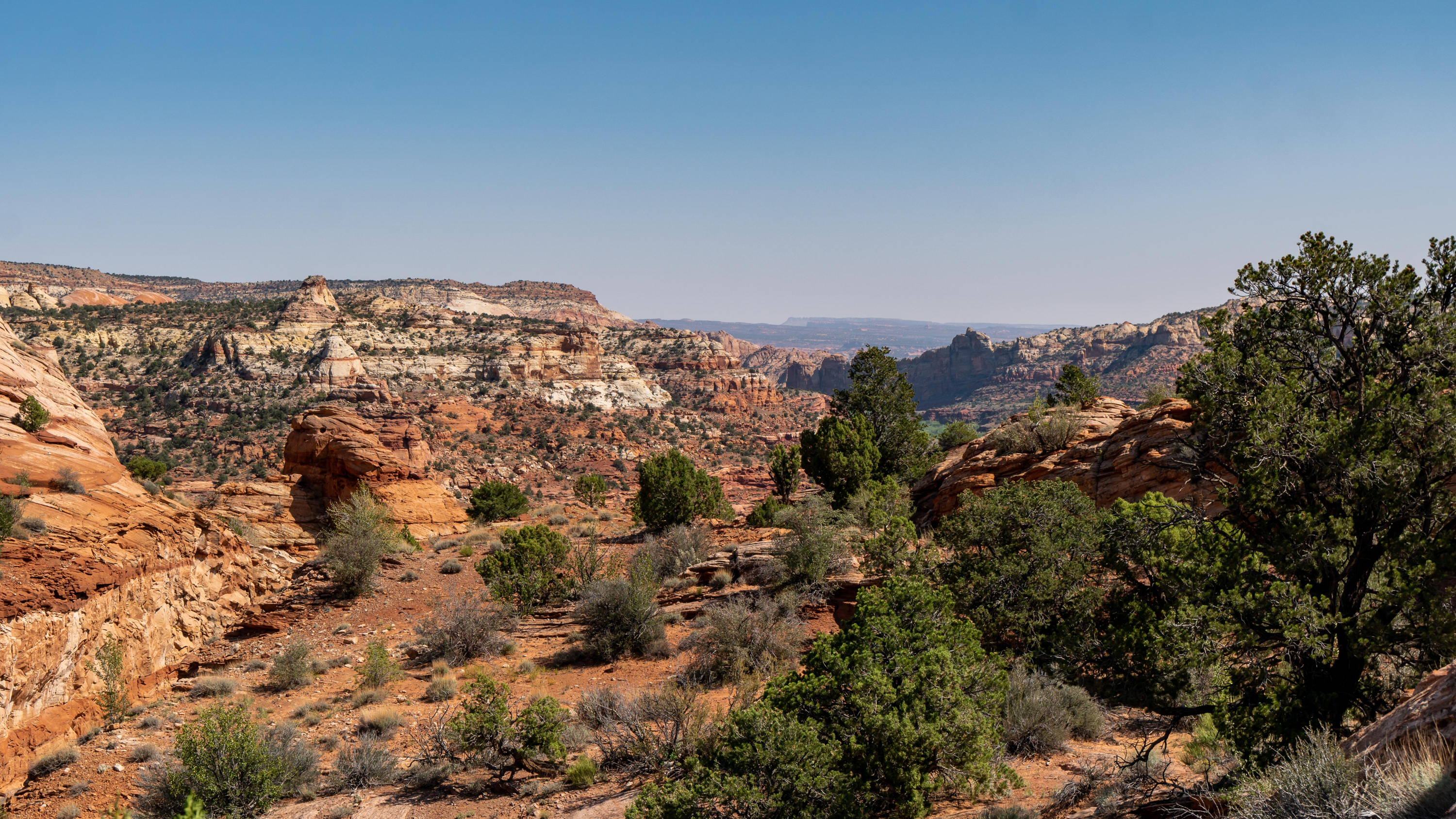 ---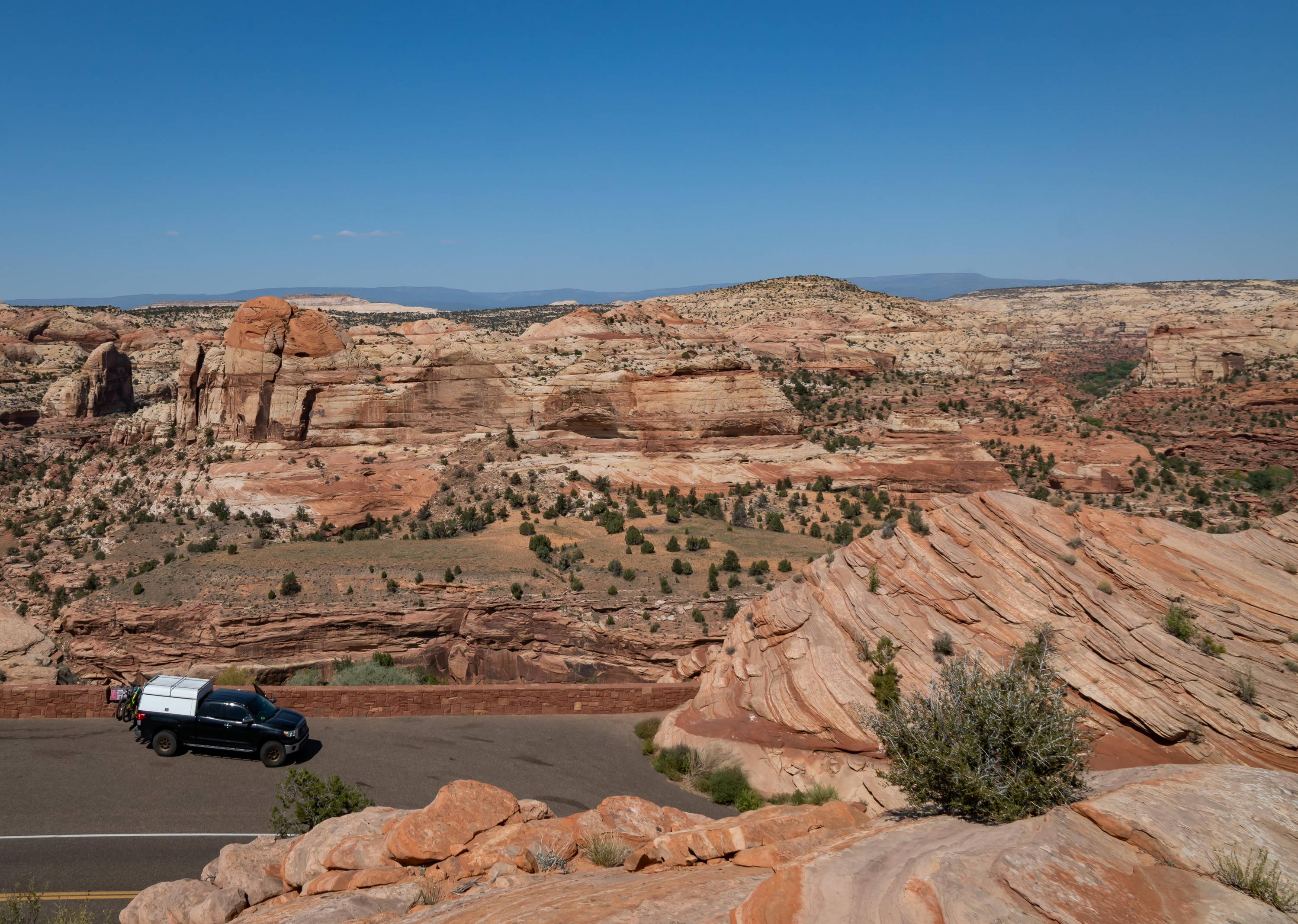 ---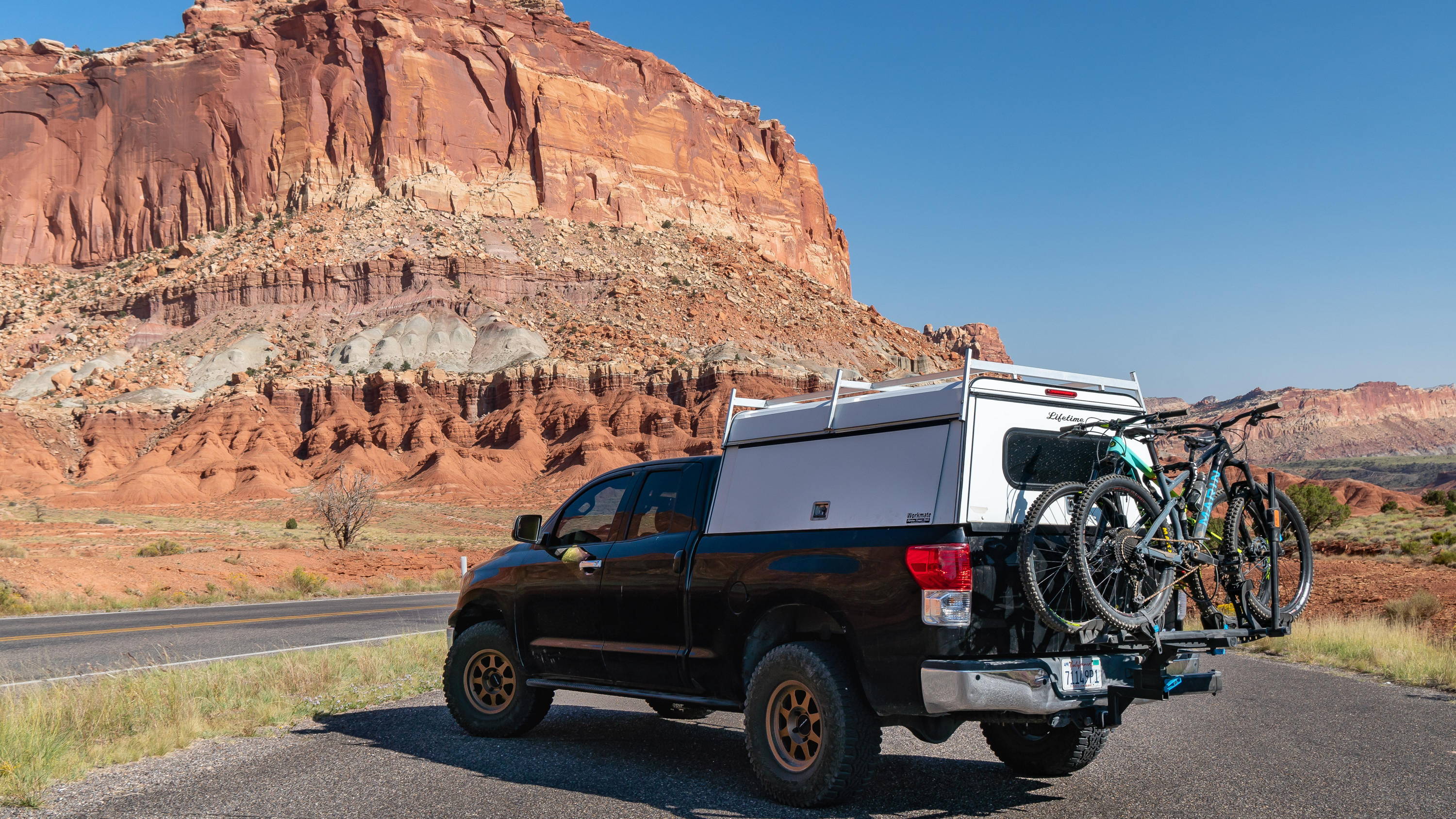 ---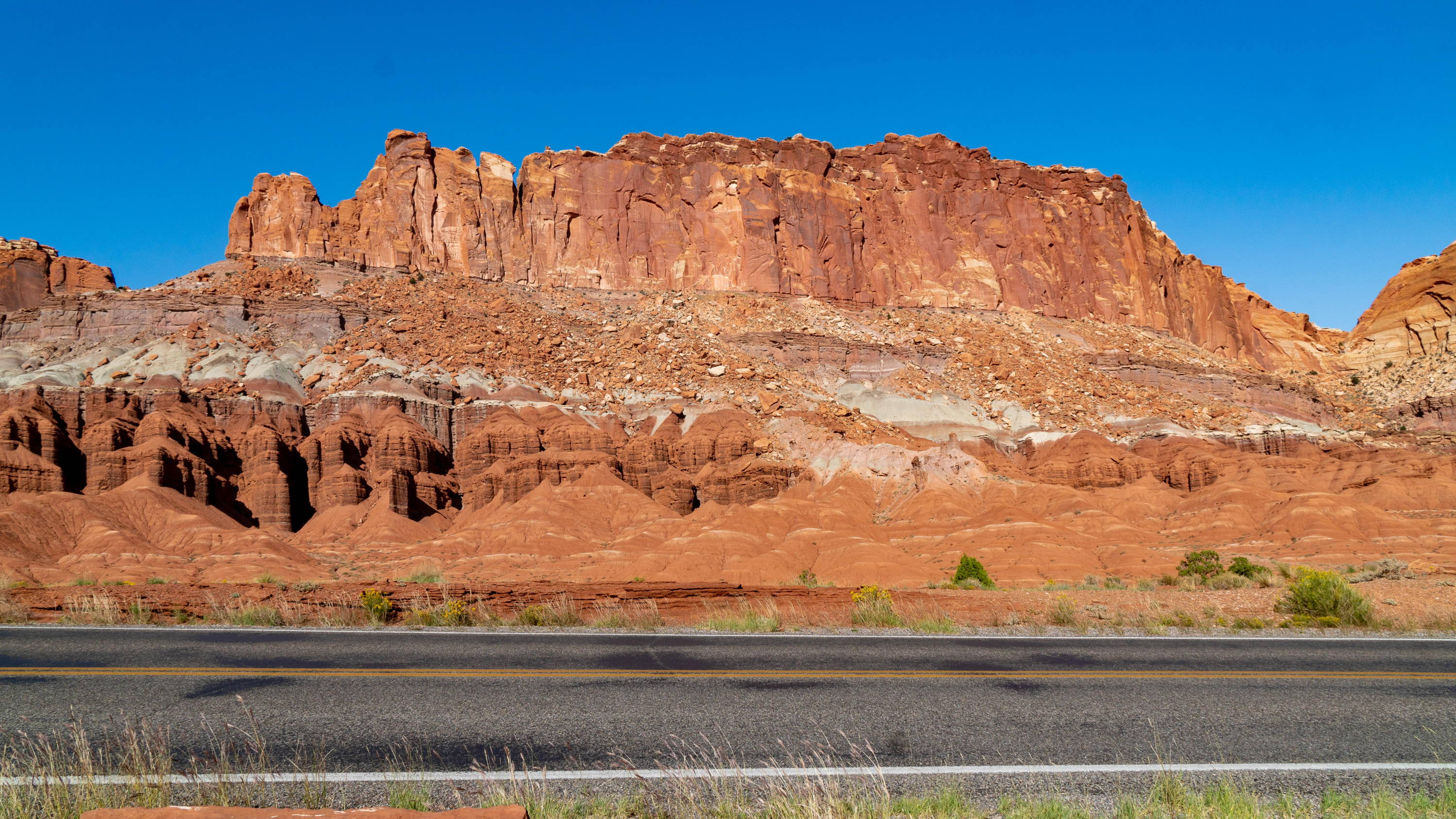 Taking the long way through Utah is always spectacular and i highly recommend it.
That weekend Moab was absolutely packed, and its honestly no suprise why. It's a worldwide destination for so many different outdoor activities and of course instagram and covid have combined to create a perfect storm to really slam these areas. We camped on some BLM outside of the town with a great view of the La Sals. Saturday morning we take off for an offroad loop around the La Sals and through some mild trails deep in the red rock.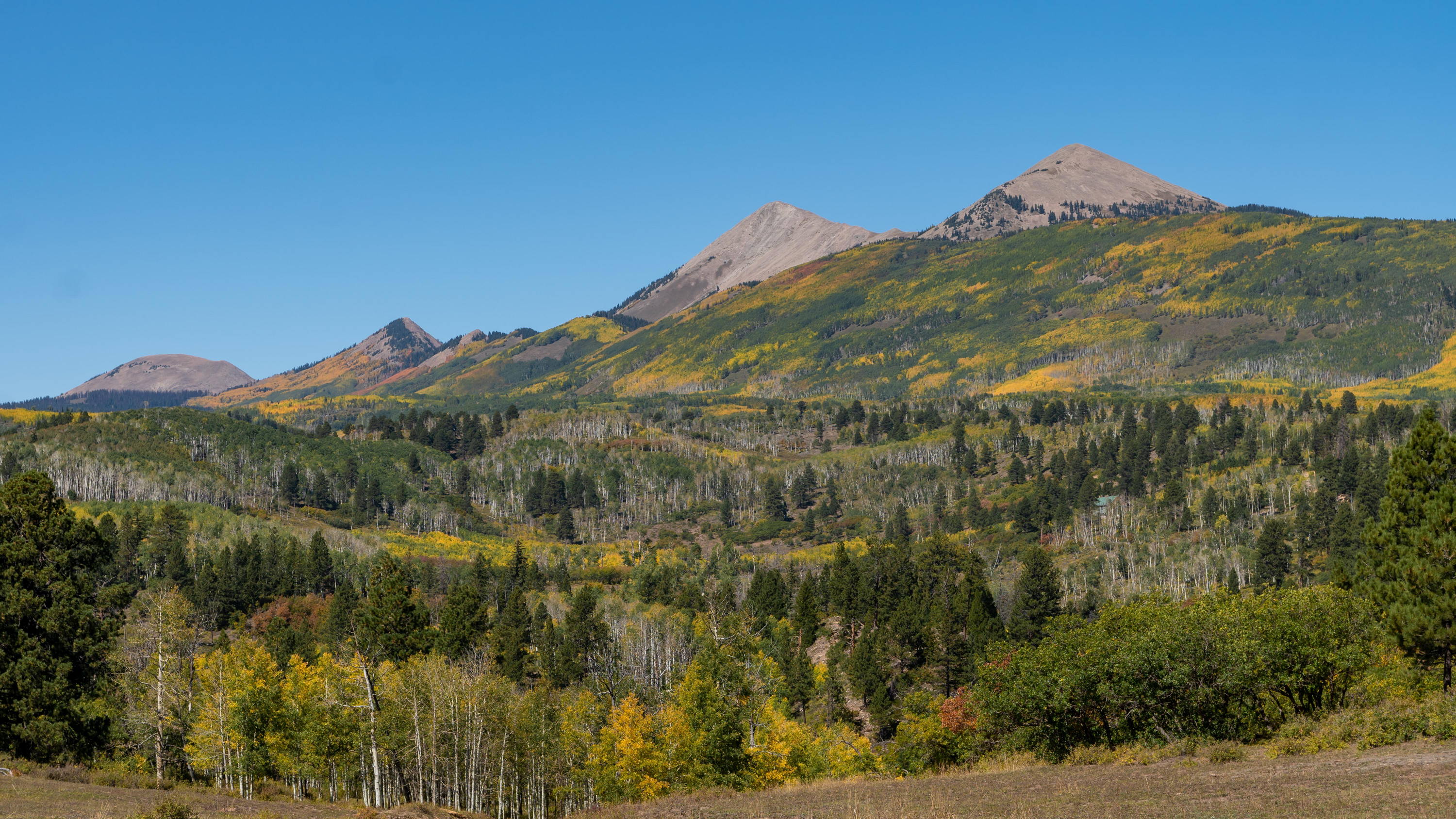 ---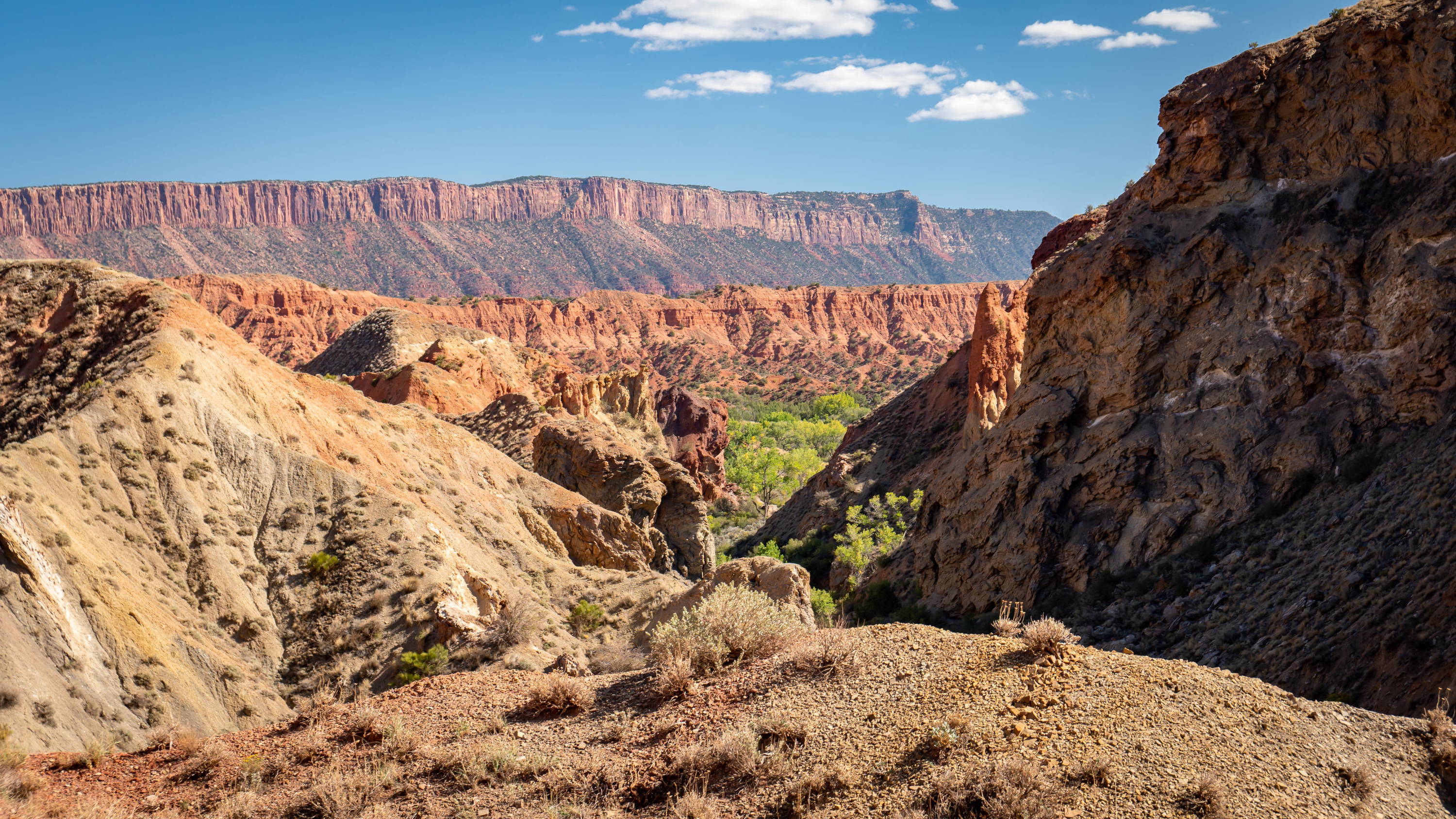 ---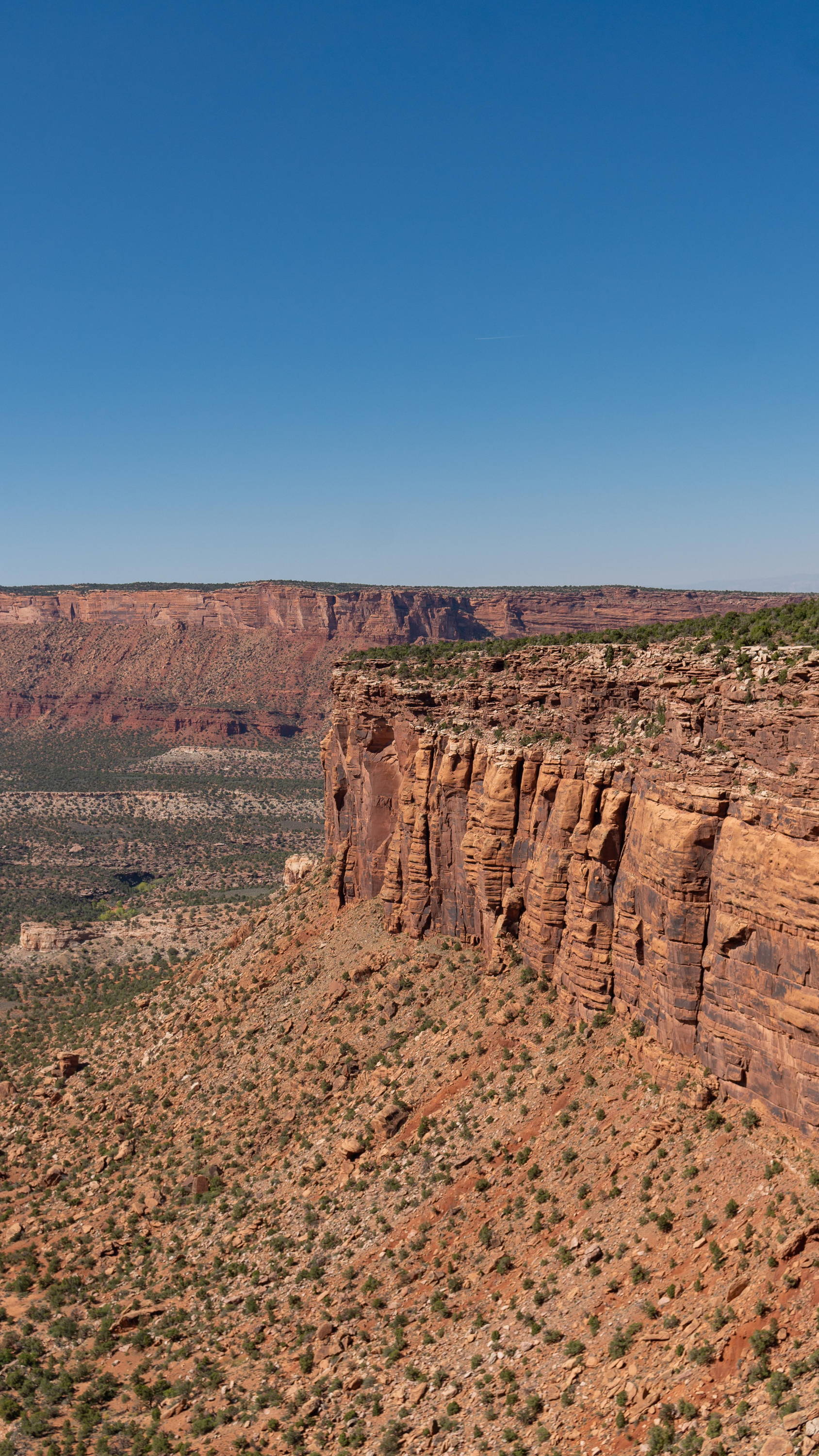 ---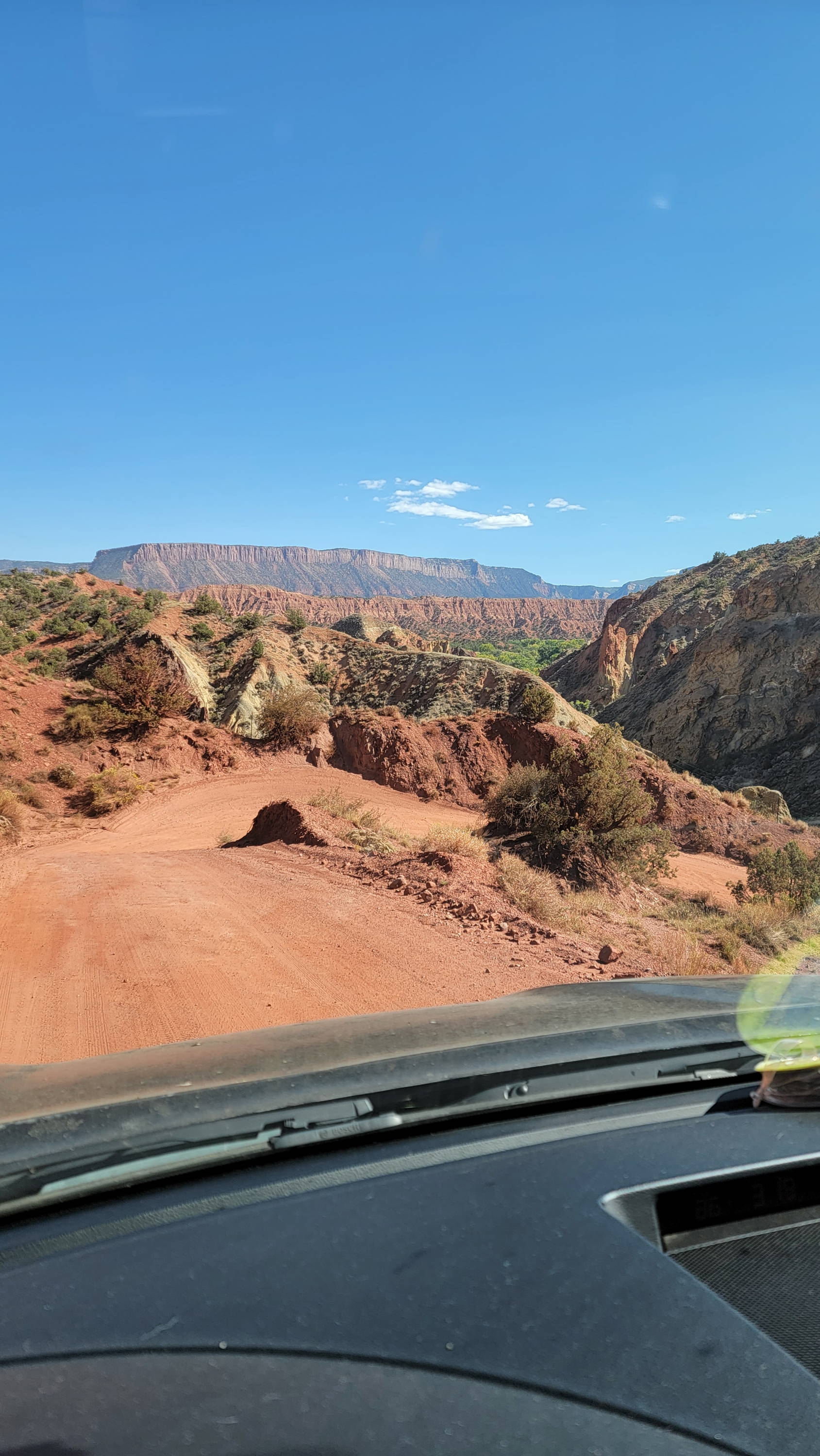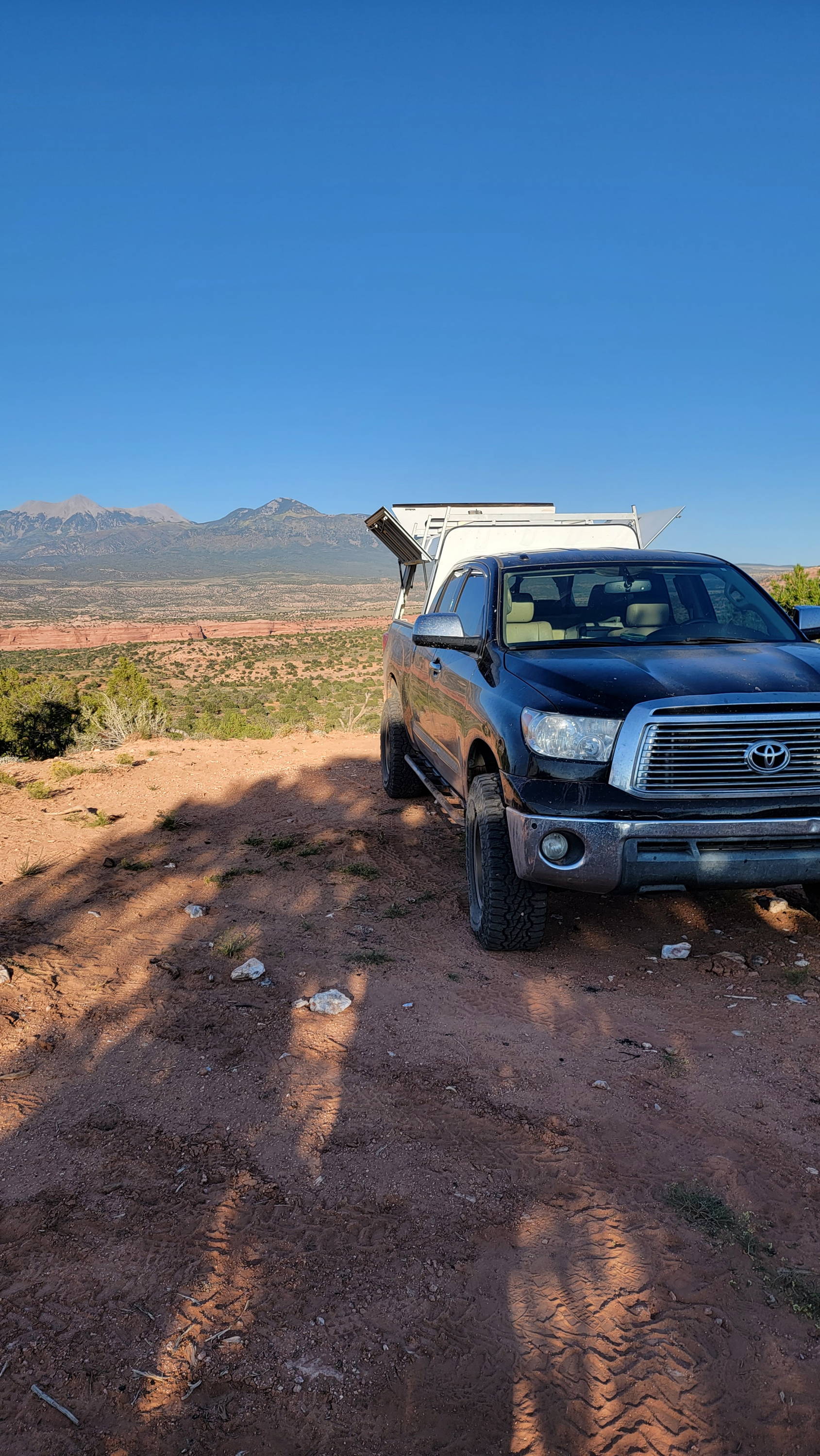 This was the first test of our new suspension setup which i cannot be happier with. It's really hard to explain just how much better it is on the road than stock because of the full size digressive piston in the front, but the offroad performance is the pinnacle of stock travel suspension. I get alot of questions about the 8100 zone control stuff asking how it compares to other shocks and frankly it just doesnt... not just other shocks from other brands, but even bilstein to bilstein... there's just no comparison to a 5 zone front bypass tuned to your rig. For the record we bought these shocks, Bilstein has never paid us a dime to talk about them, it's just a product i truly believe in.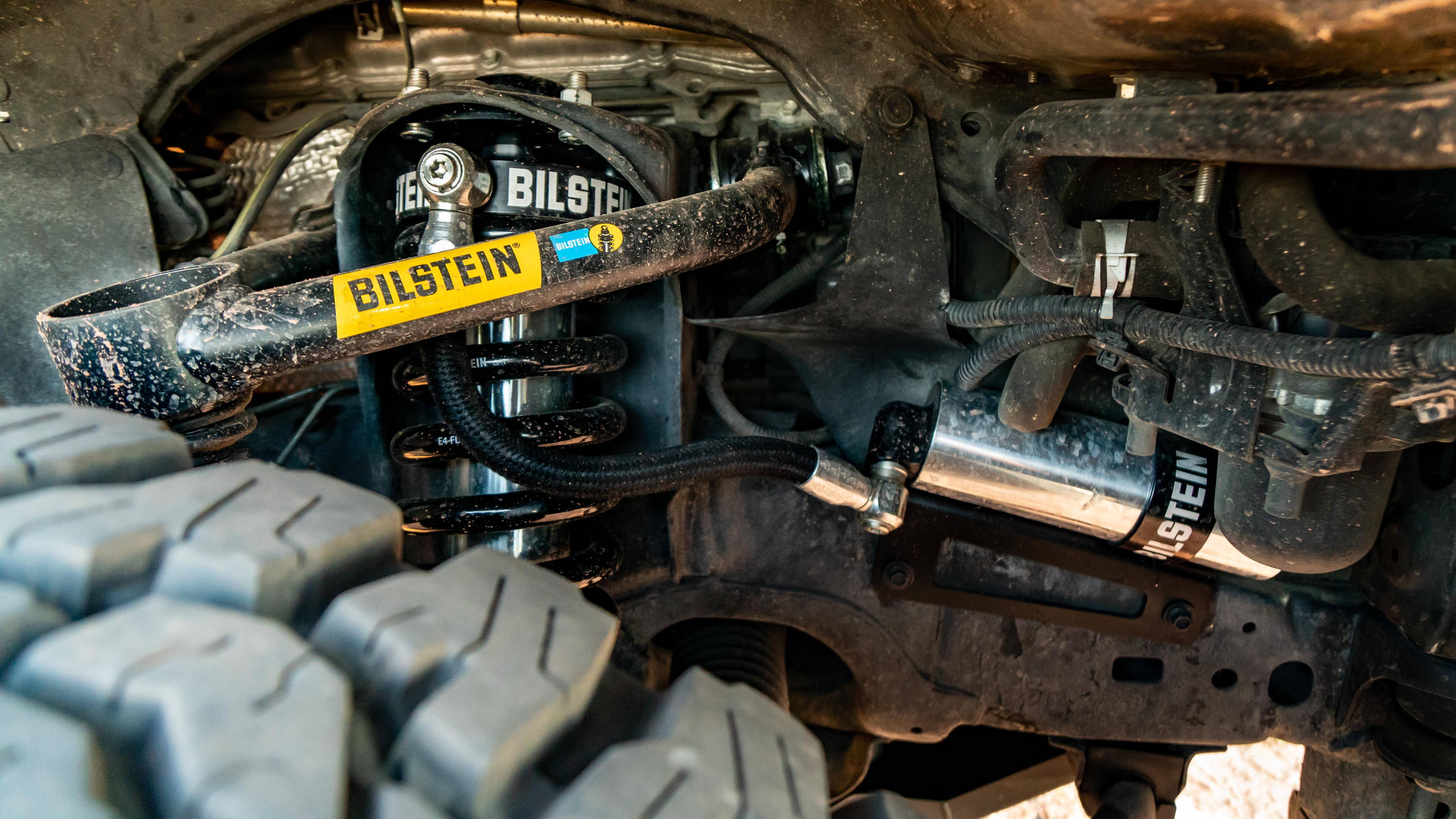 The next day we pull the bikes out to ride the world famous "slick rock trail" in moab. I had a minor disaster trying to swap my bike to a tubeless setup and end up with a front tire that needed pumped up about every tenth of a mile. Calling it quits early on the trail we decide to take a dip in a local creek and make our way back to camp to head out to an overlook for the sunset.
---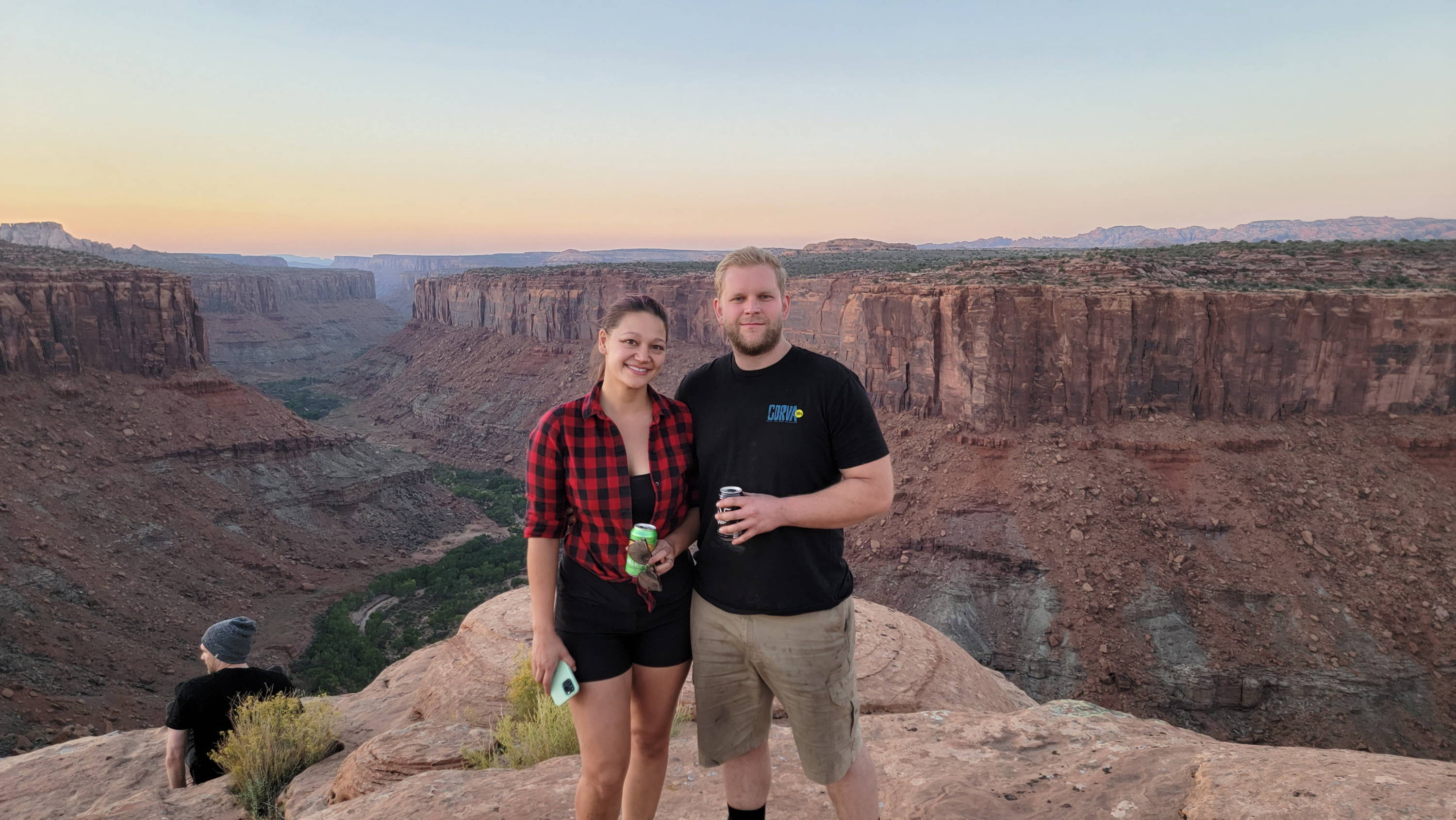 ---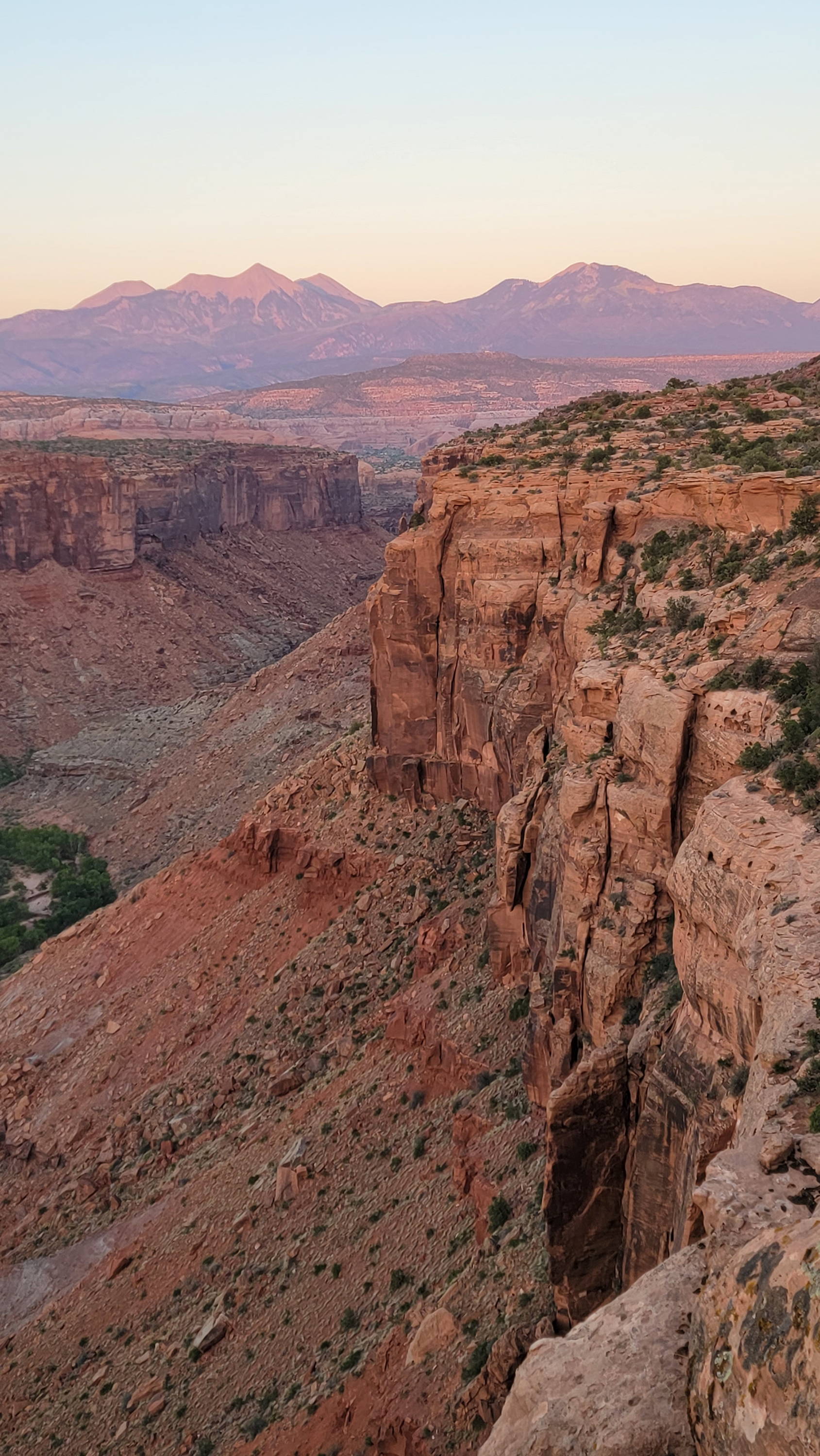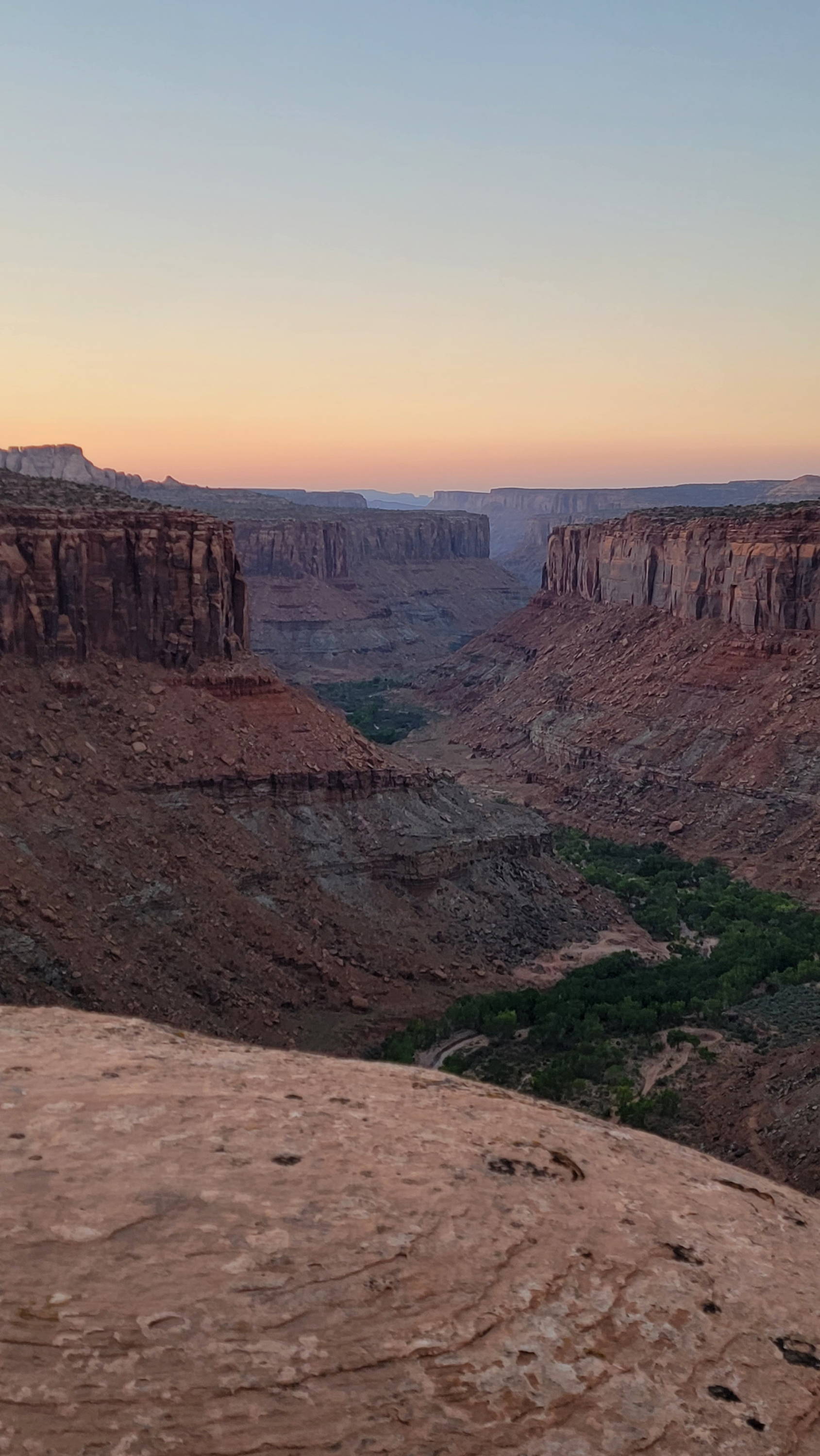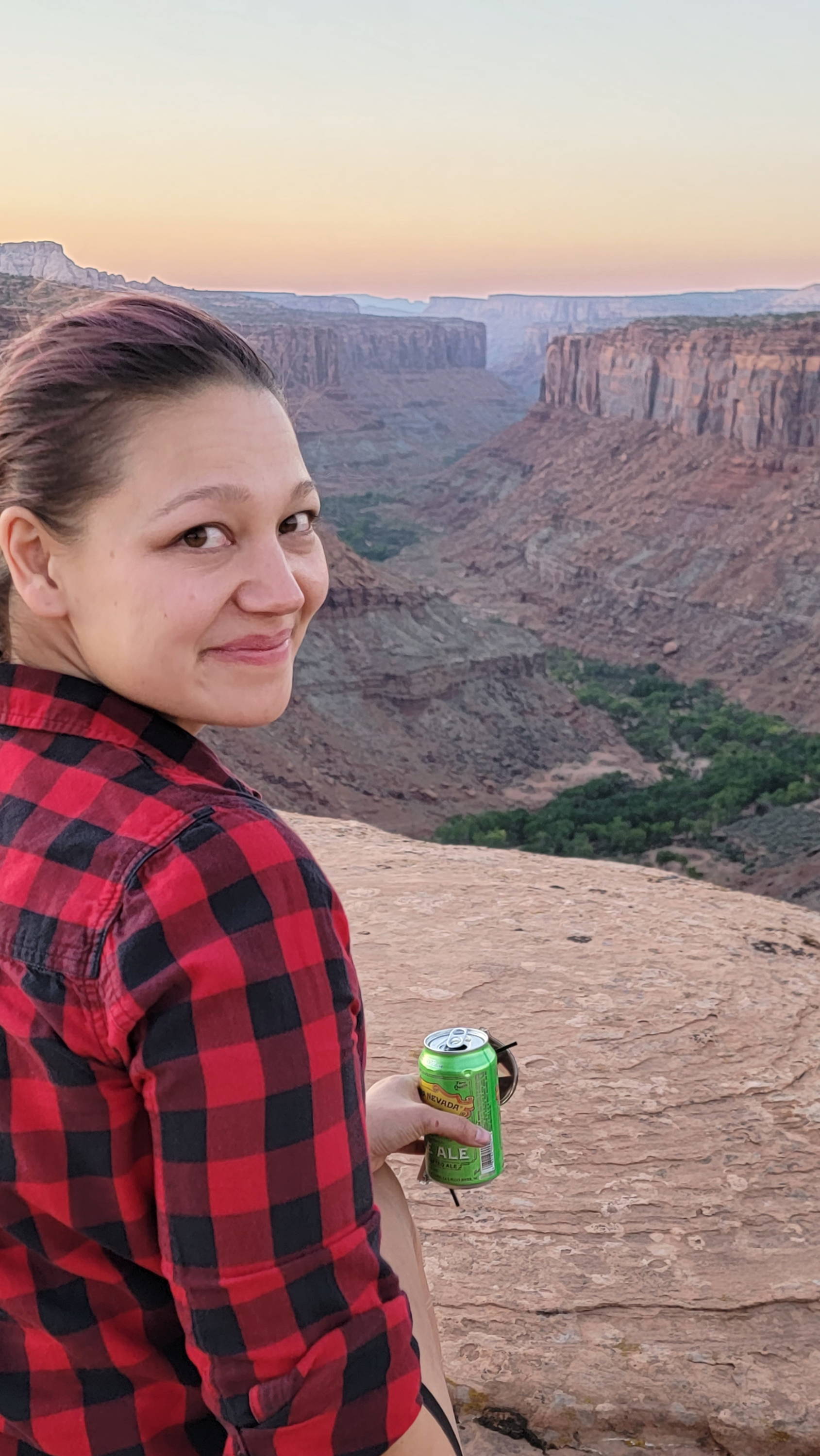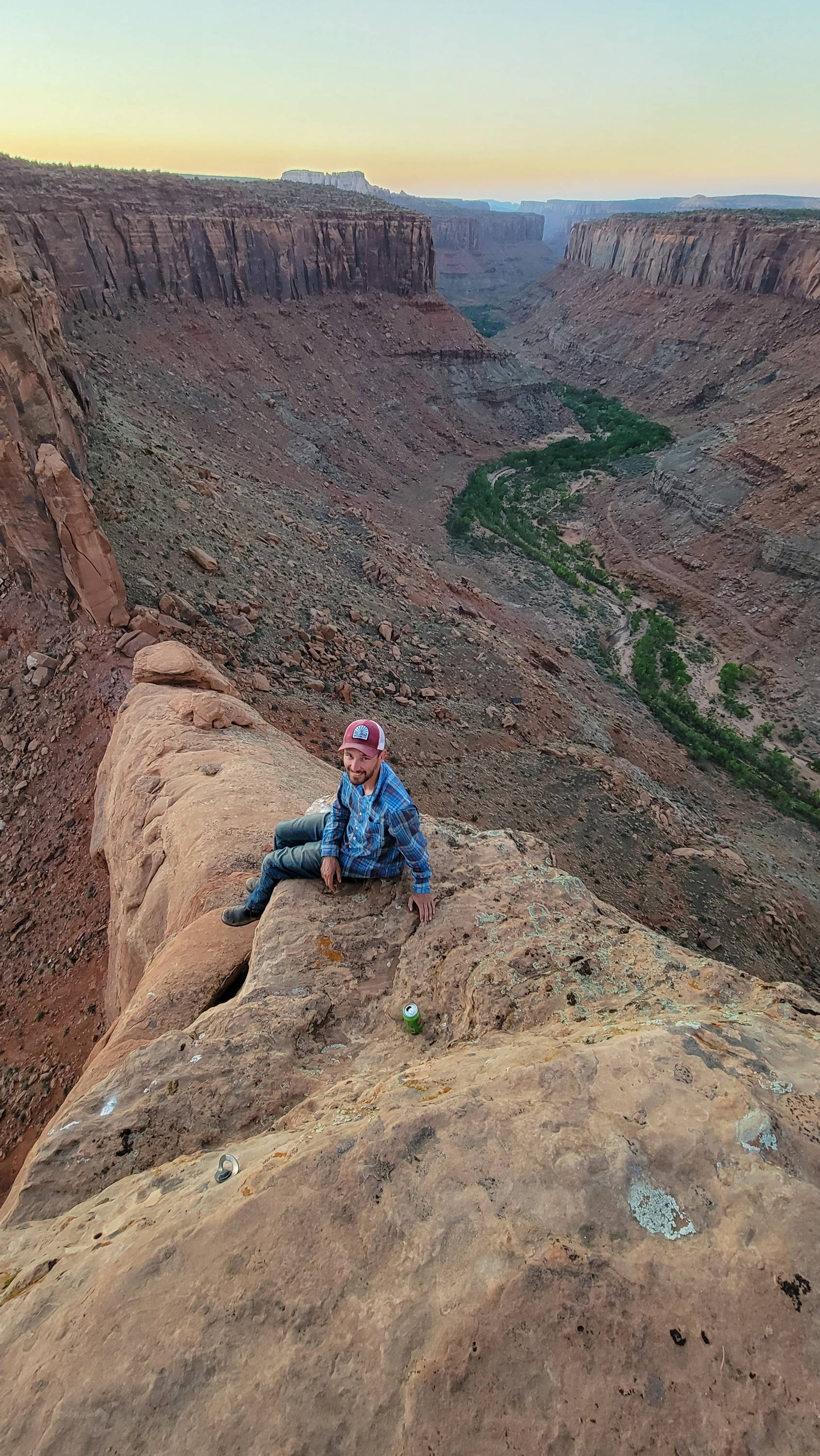 Waking up at the crack of 11:30 on monday morning we head to Ridgway Colorado to spend some time exploring the mountain passes and fall colors in the area. On the way there i kept smelling oil which i assumed was from our friend Matt's diesel truck in front of us. After finally inspecting the motor once we arrived i find the Genessis Dual battery mount rubbed a giant hole in the valve cover which was spewing oil... Thankfully this was a quick fix, i had the valve cover off in 30 minutes and we welded it up and slapped it back on. I dremmeled the holes drilled in the fenderwell to push the battery tray over almost a whole inch, i had to clearance some of the headlight housing in order to gain the appropriate clearance. After double checking the install instructions i verified it says 1/4" is plenty of clearance from the tray to the motor... i knew better when i installed it but decided to go by the instructions anyways which of course i now regret.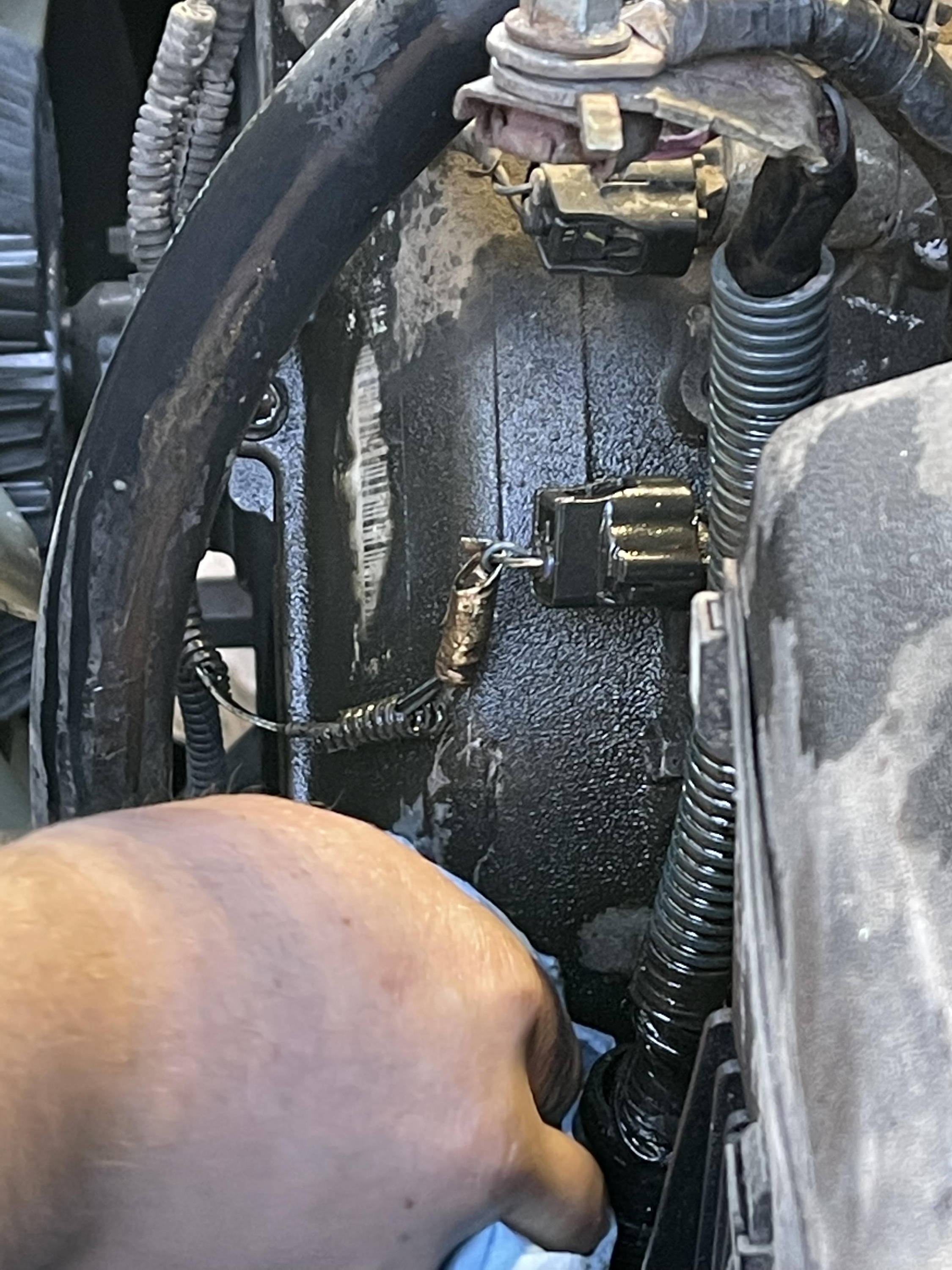 ---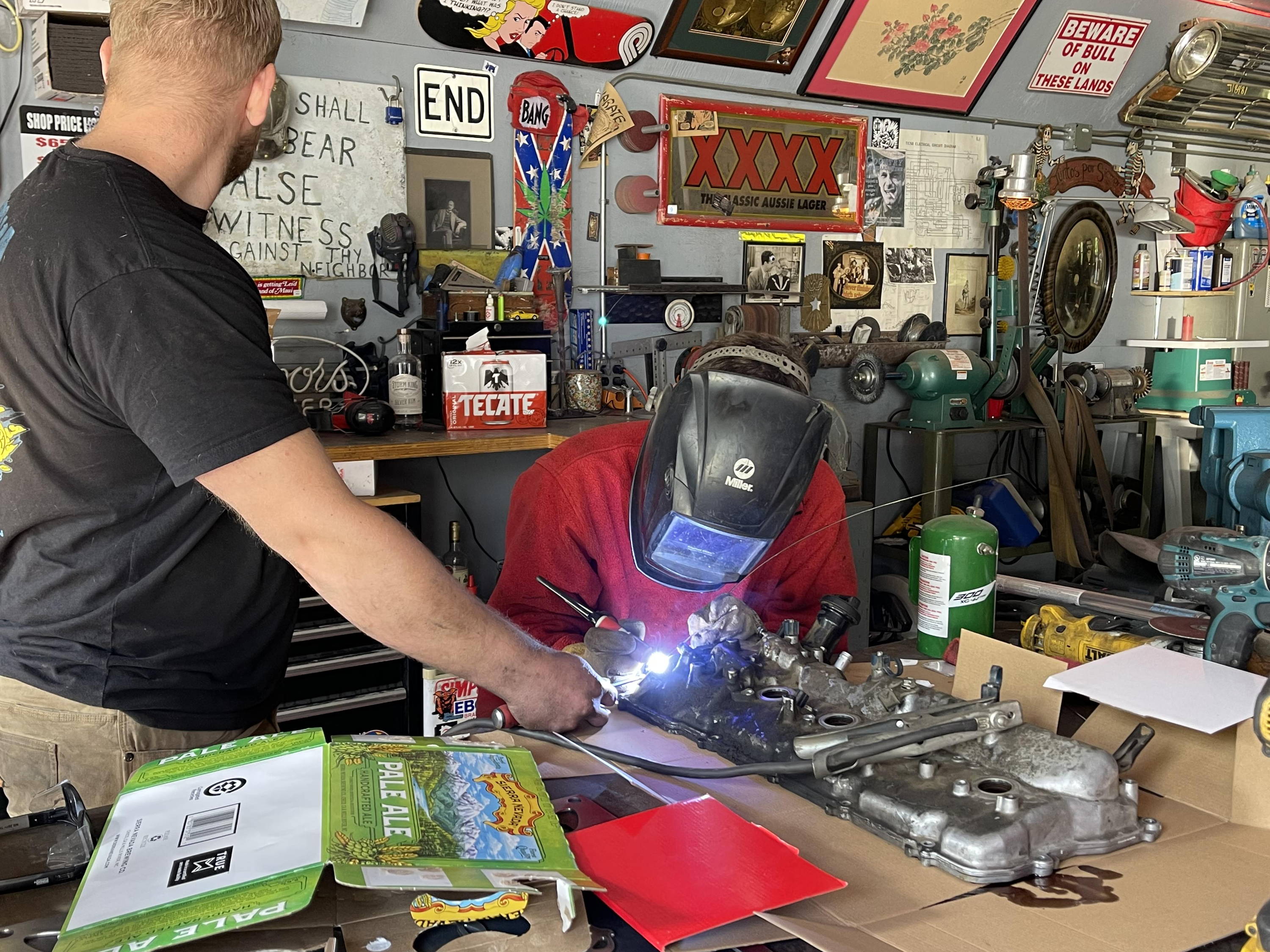 With that minor crissis averted we head up to make the best of that day and do a few passes local to the area. The amount of people that were freaked out about the tundra on those trails was sort of mind boggling because for the most part they are just normal roads. The highlight of the day was passing a group of side by sides and having the leader ask me what long travel kit the truck had after i blasted up some rocks by him. The views were stunning but the difficulty is massively overrated.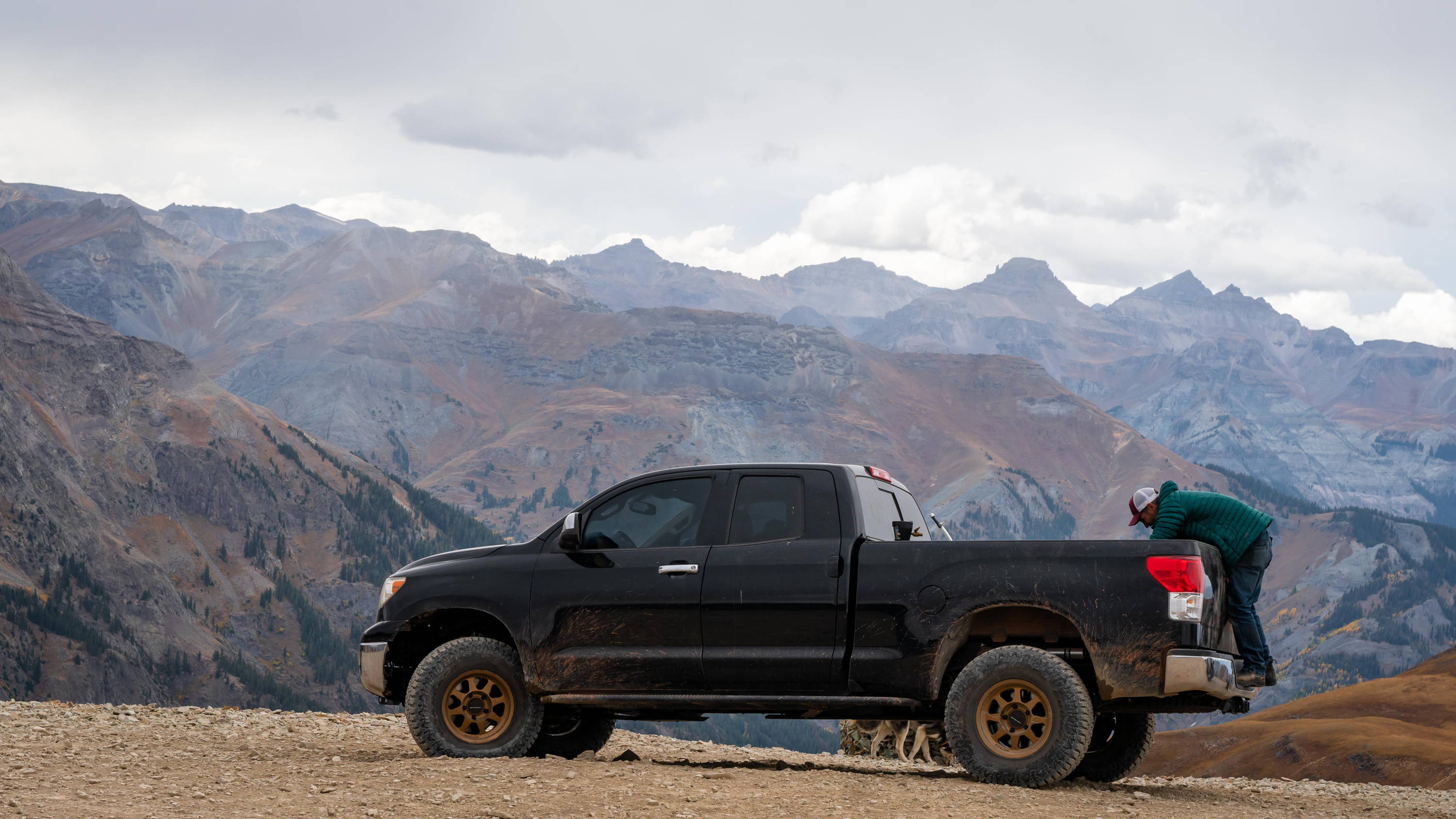 ---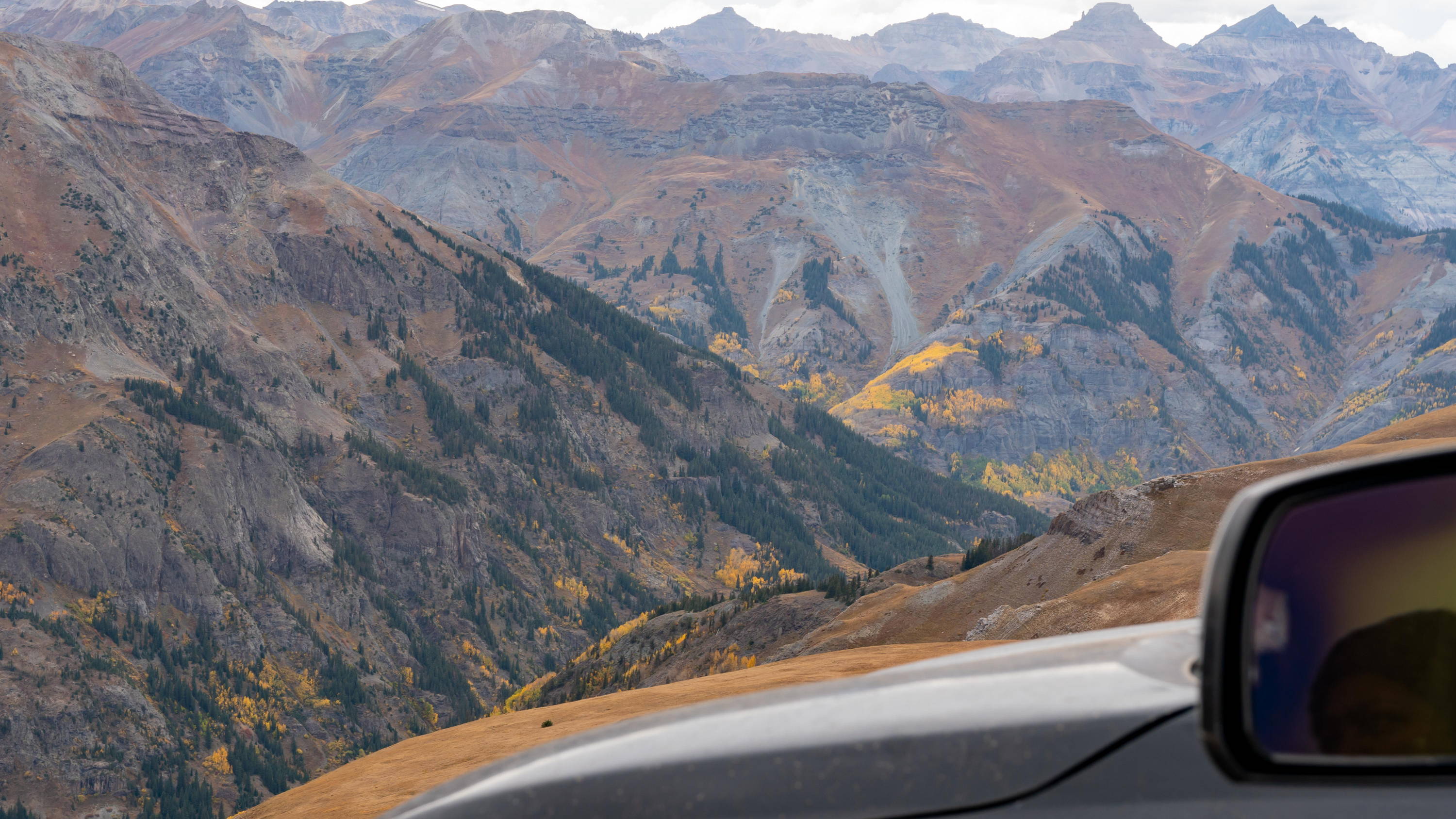 ---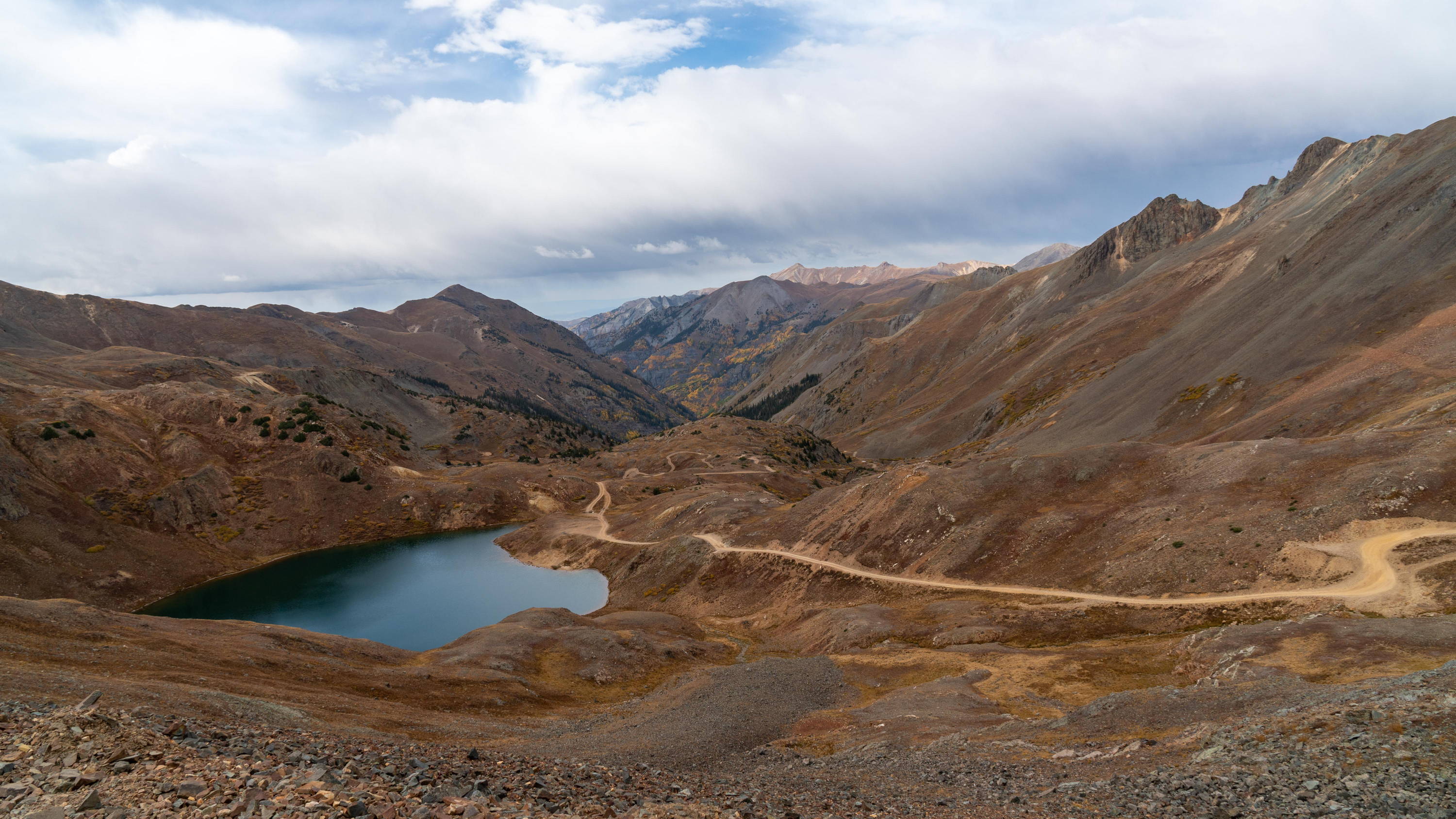 ---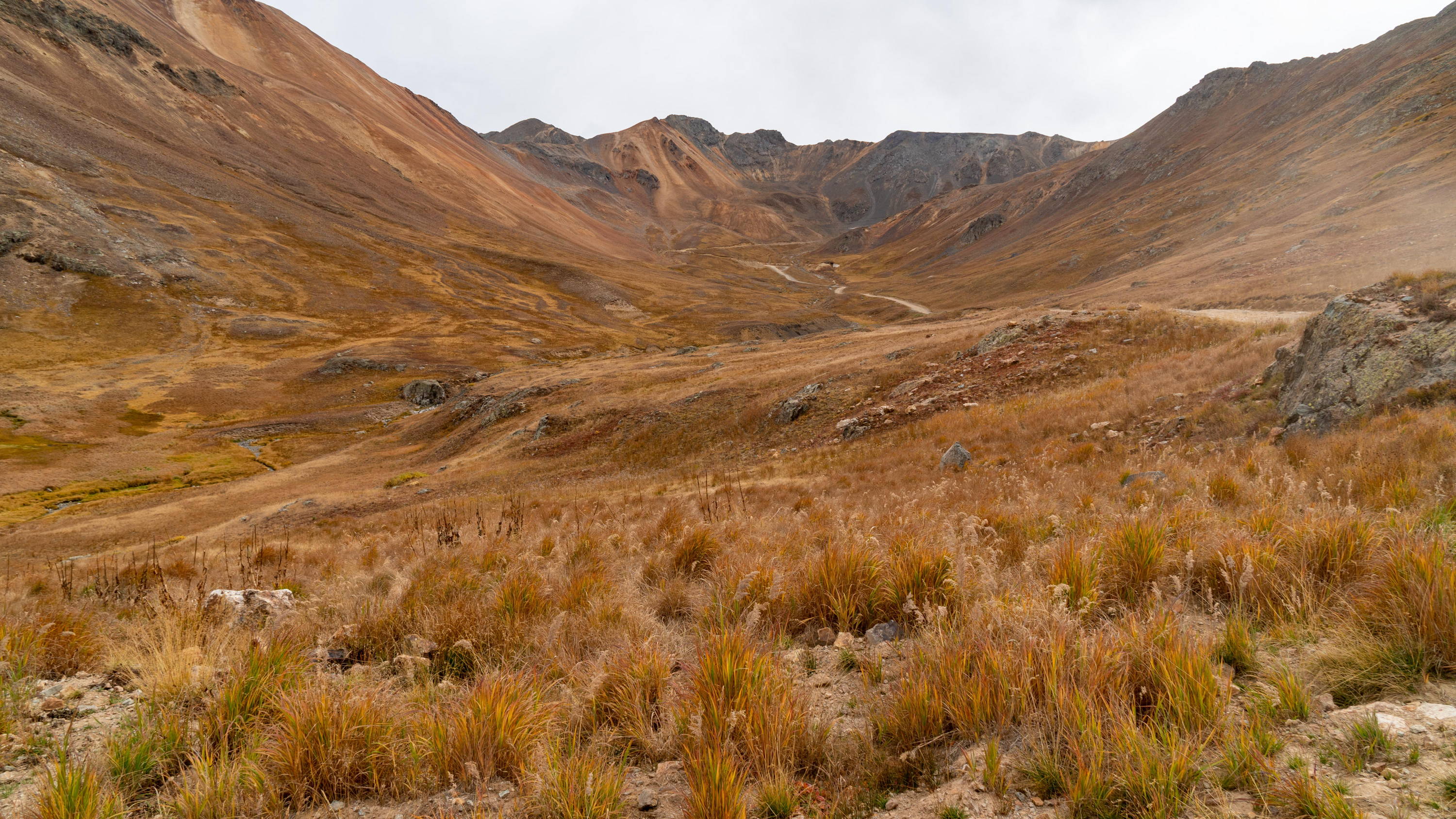 ---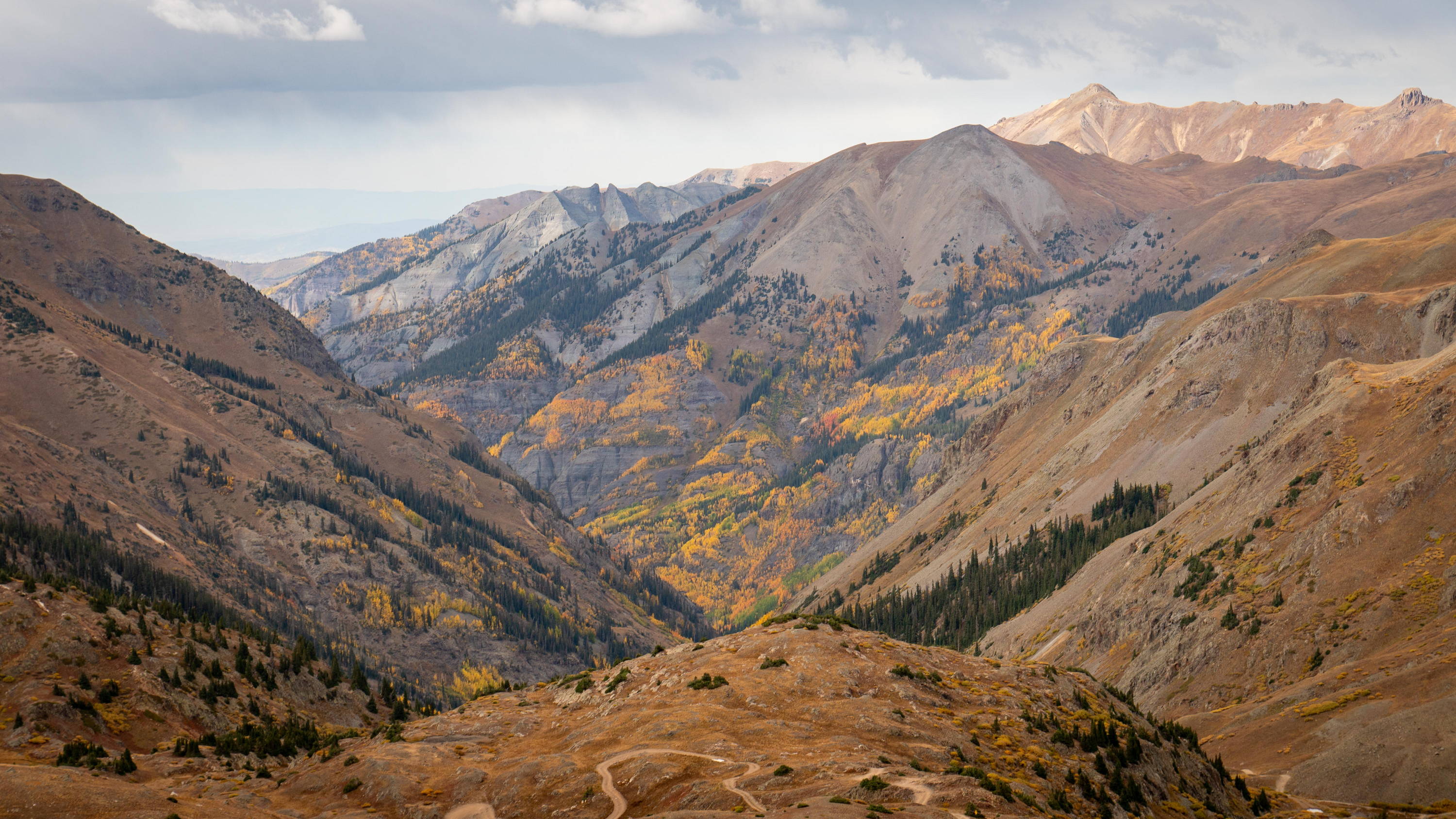 ---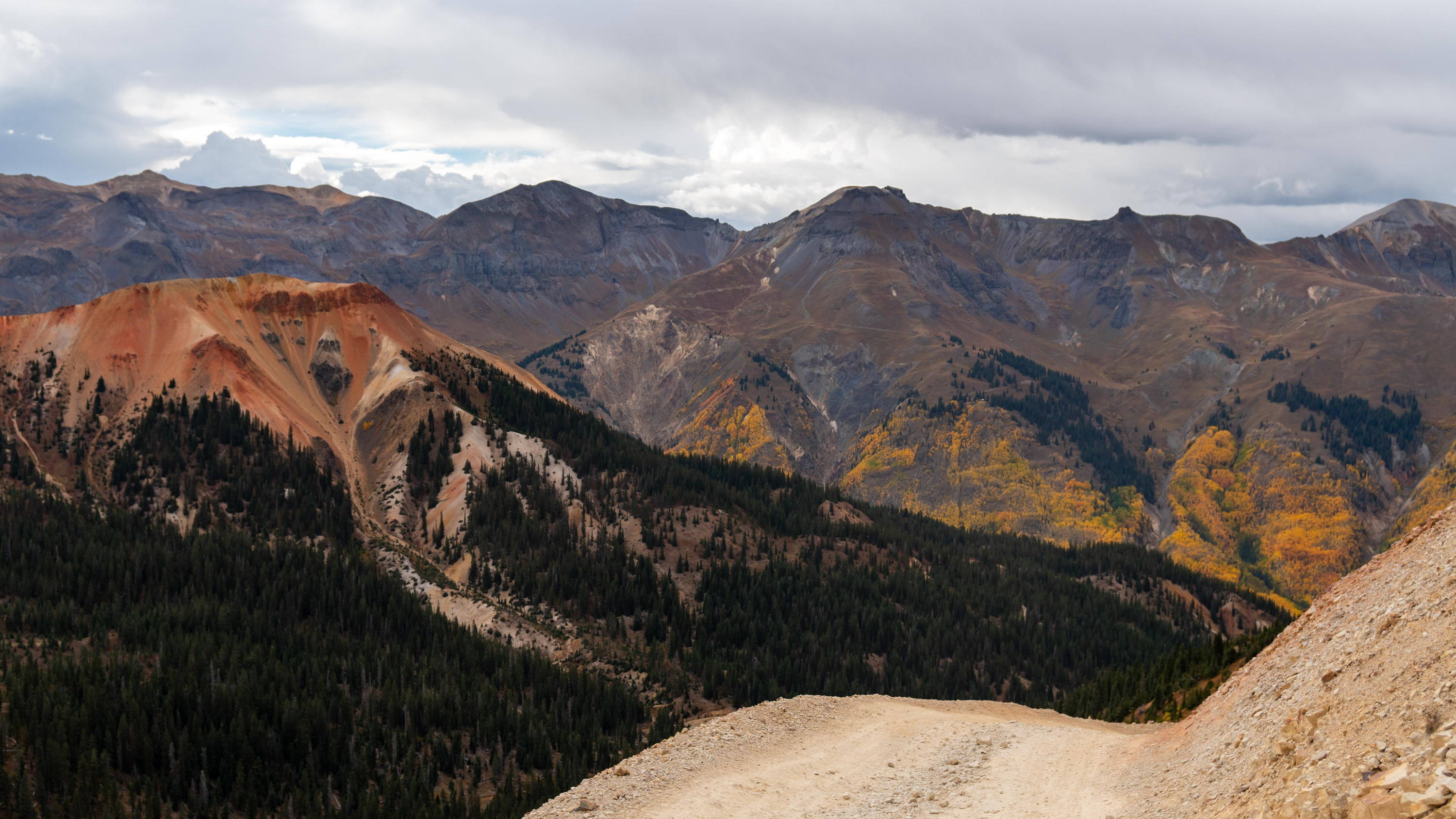 ---
A goal of this trip was to see some fall colors. This is Brittany's favorite time of year and i can see why.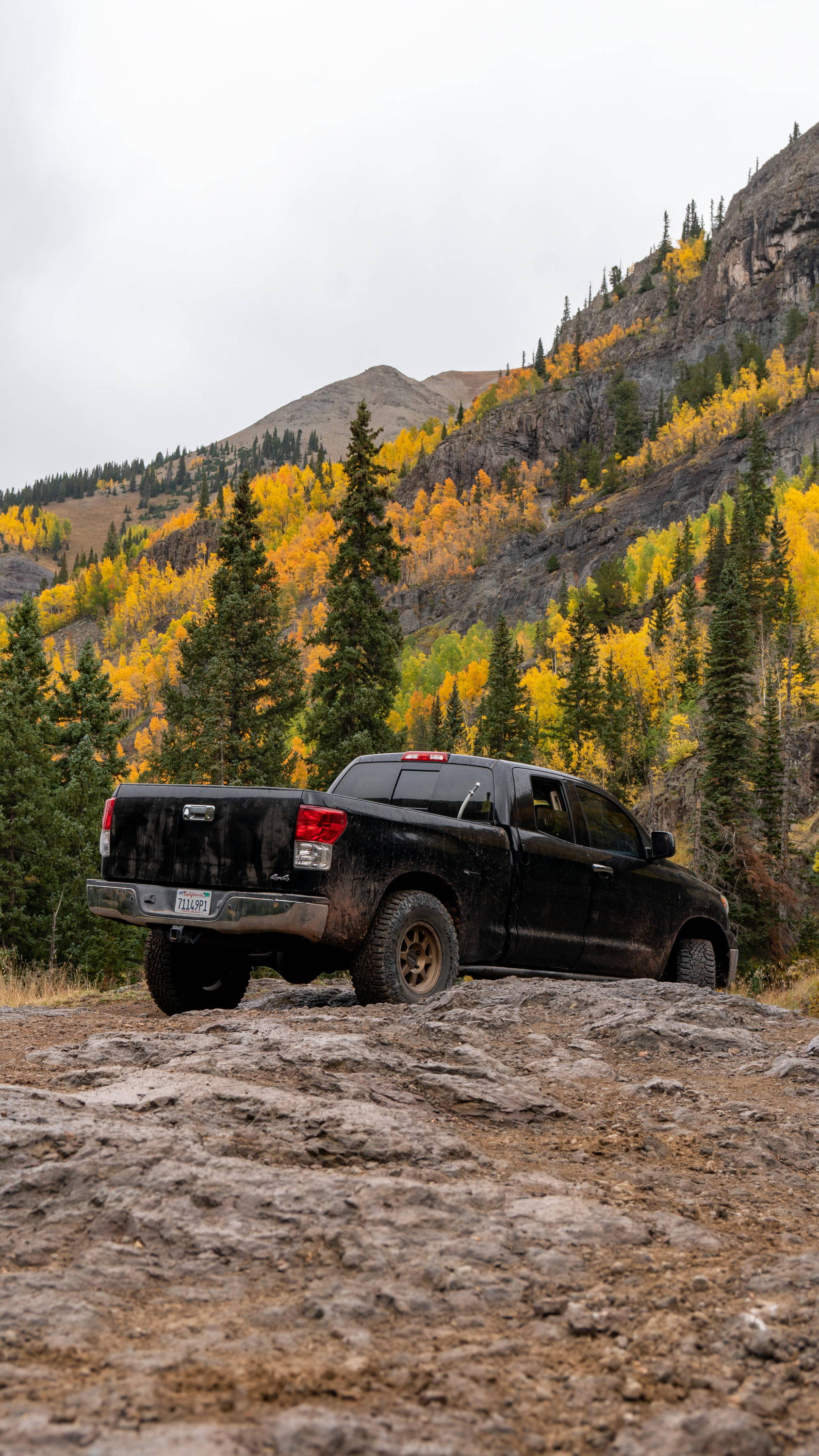 After jumping the truck and hitting some rocky washes at freeway speeds in moab the camper shell had seen better days. We left in such a hurry i never built a real way to attach it, so we figured since we were couch surfing in ridgway we'd wait until we left to fully glue it onto the bed. It was nice to have the plumber shell off for a bit but really for 500 bucks you just cant beat it for a camping setup.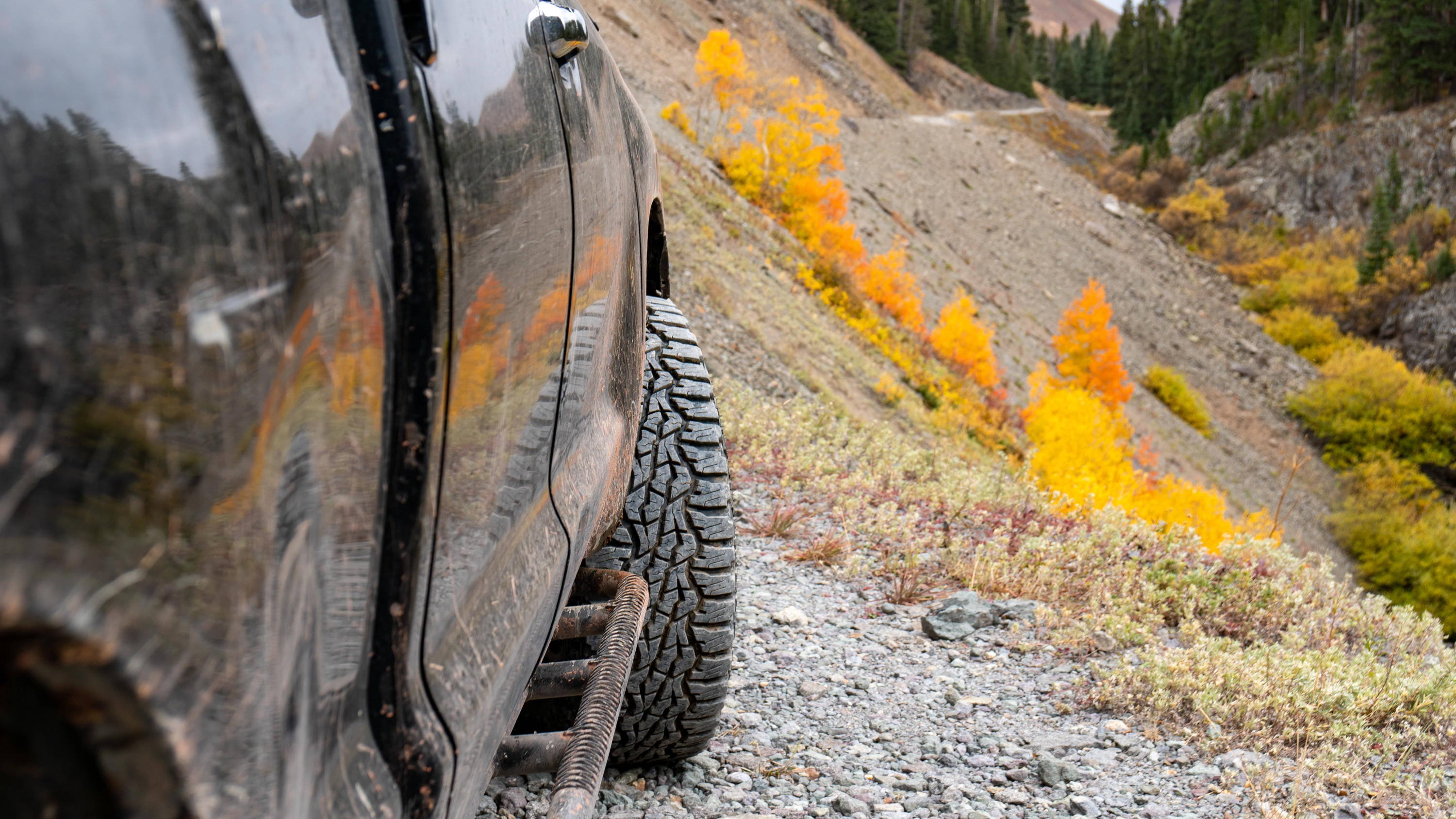 For tire choices we took a chance on the "Goodyear Ultra terrains" which are made exclusively for Discount Tire. A bit of behind the scenes on them is they are actually designed by discount and really dominate the other all terrains in all the safety ratings, which is as close to objective tire data as you can get. Those of you who have been following along with us for a while know we had a pretty gross experience with bfg when scouted for an ad, so it was great to find a excellent USA made all terrain alternative for this trip. It completely blew us away in every regard and seems much more agressive than anything else in its class. If they made them in a 40" we'd swap to them on our bigger trucks.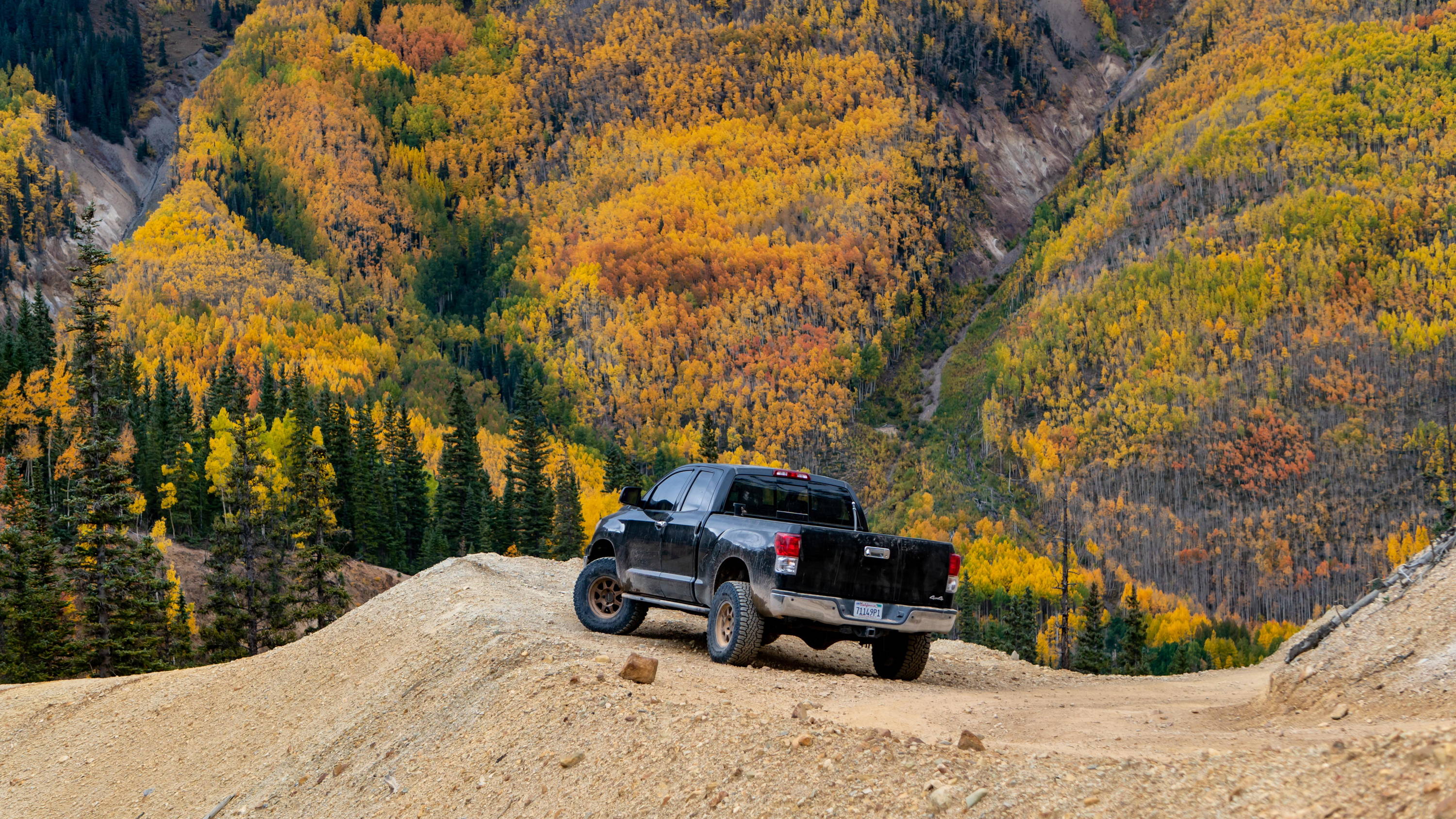 ---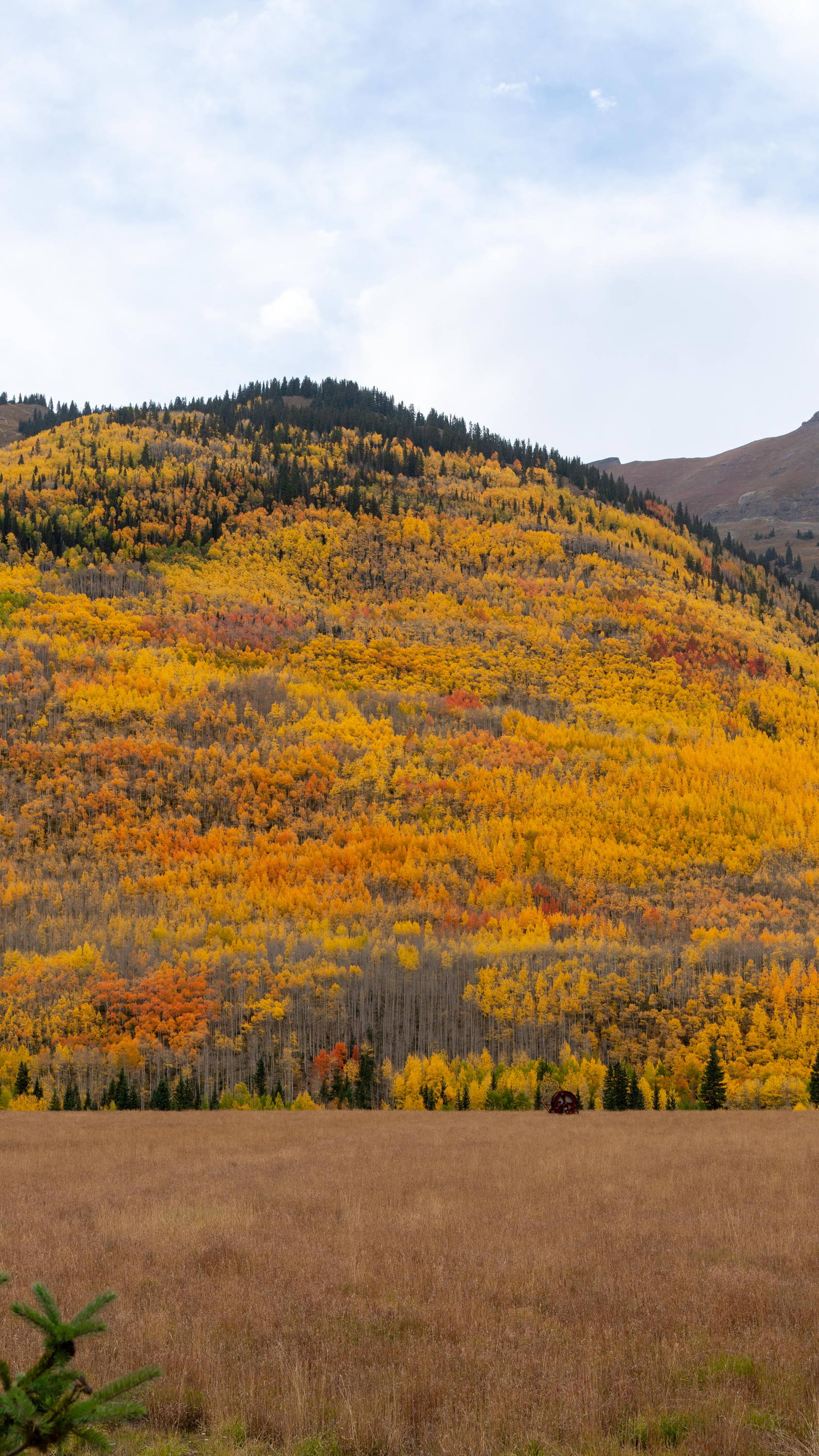 ---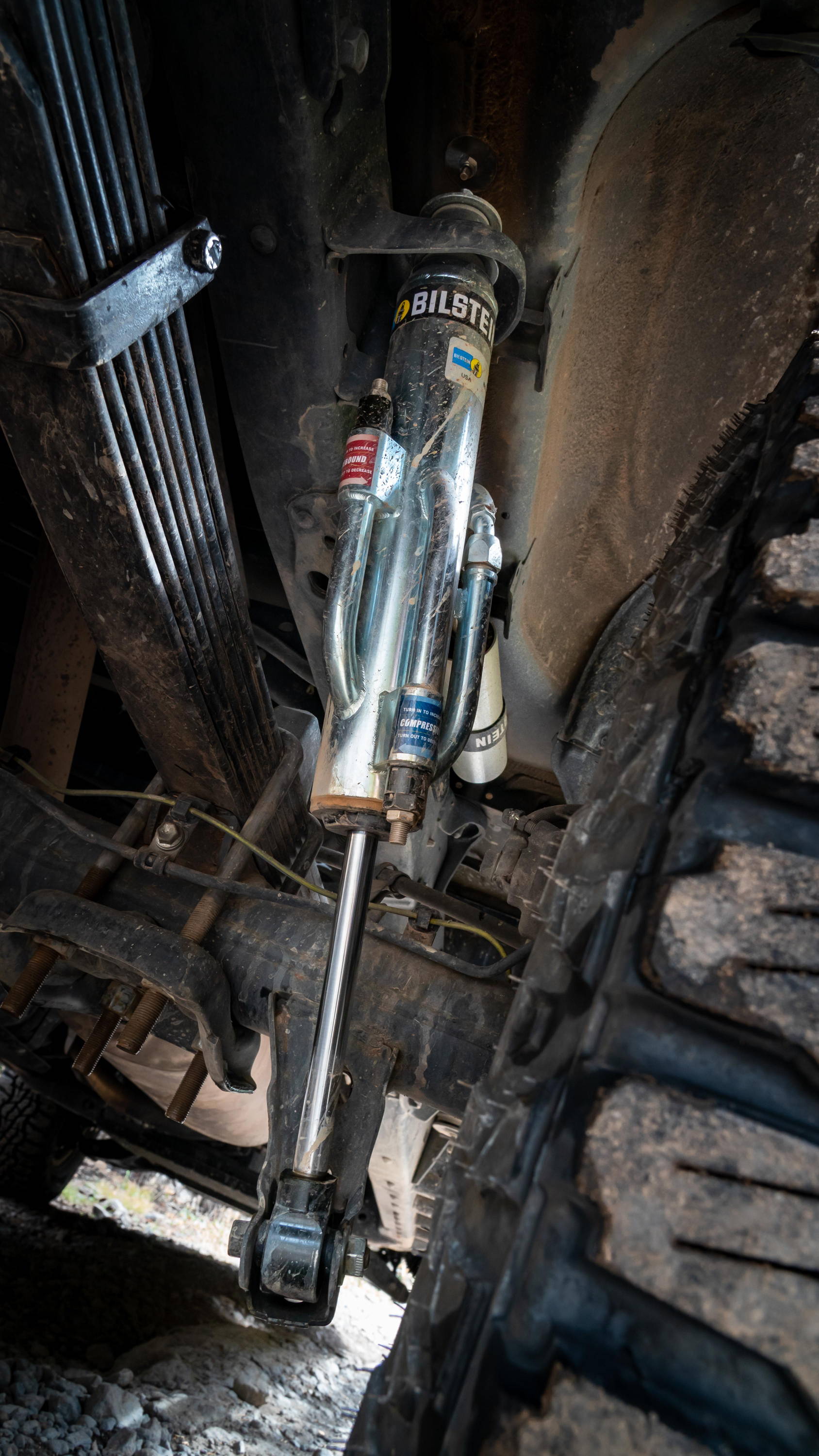 In the rear we are running a 9 leaf deaver pack which is frankly way too firm for the truck as its loaded right now. We have some future plans to put a camper on it and this truck is really mainly our tow vehicle more than an offroader so we opted for the medium duty leaf pack which i sort of regret. The rear shock setup is a 2 tube bypass, the great part about this is that even though the leaves are a bit too firm i can tune the compression and rebound tubes a bit to really dial in the ride quality when loaded and unloaded.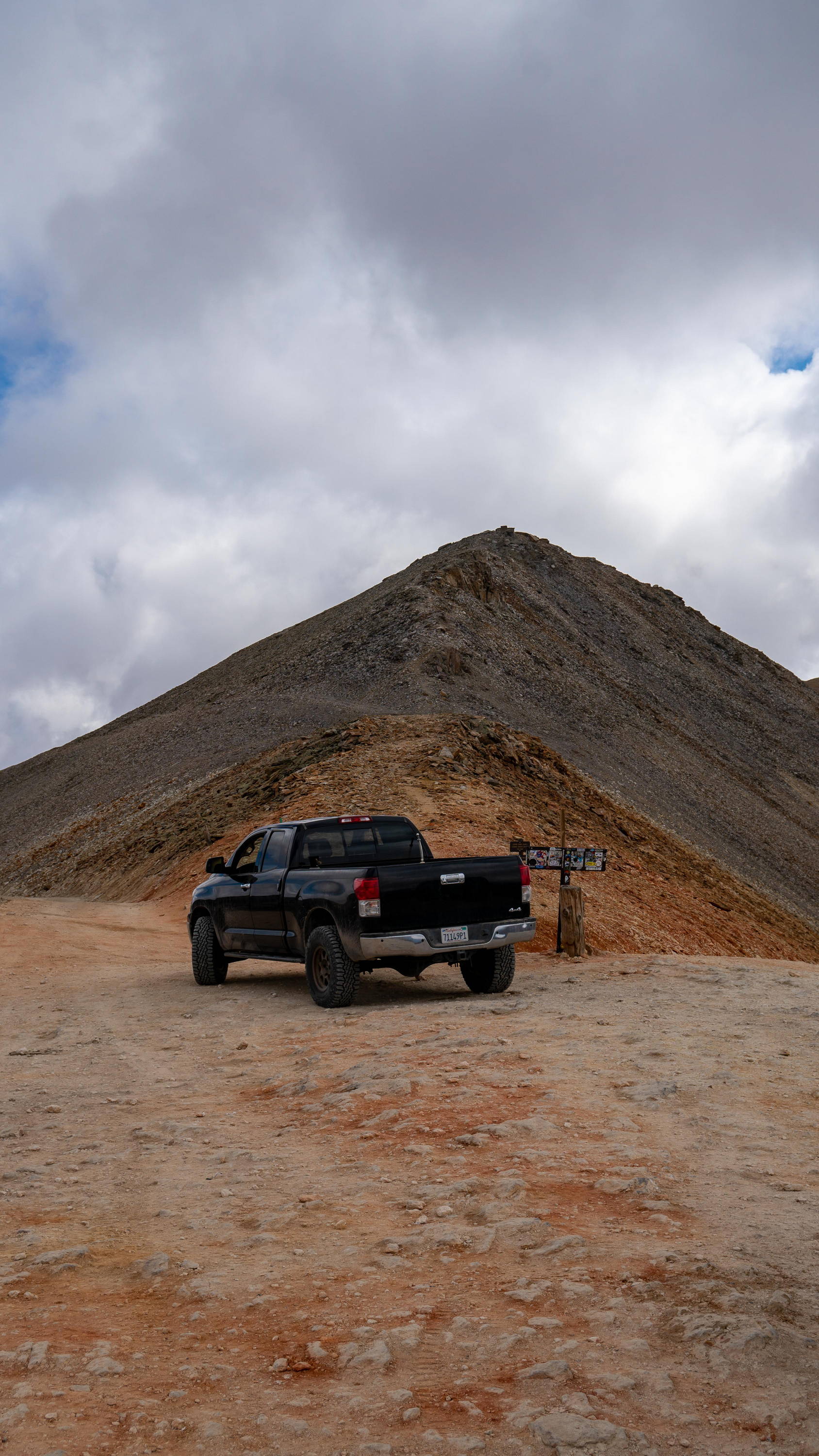 Afterwards we drop into Telluride for a trip on the Gondola, and to visit Telluride brewing. Telluride is an interesting town where the billionaires are pushing out the millionaires... and i can see why, the place is beautiful. After leaving the area we head out on last dollar pass to visit our friends cabin. It's not too suprising but it was interesting to see the amount of folks with light bars on and aired down to drive on the road our friends take to get groceries.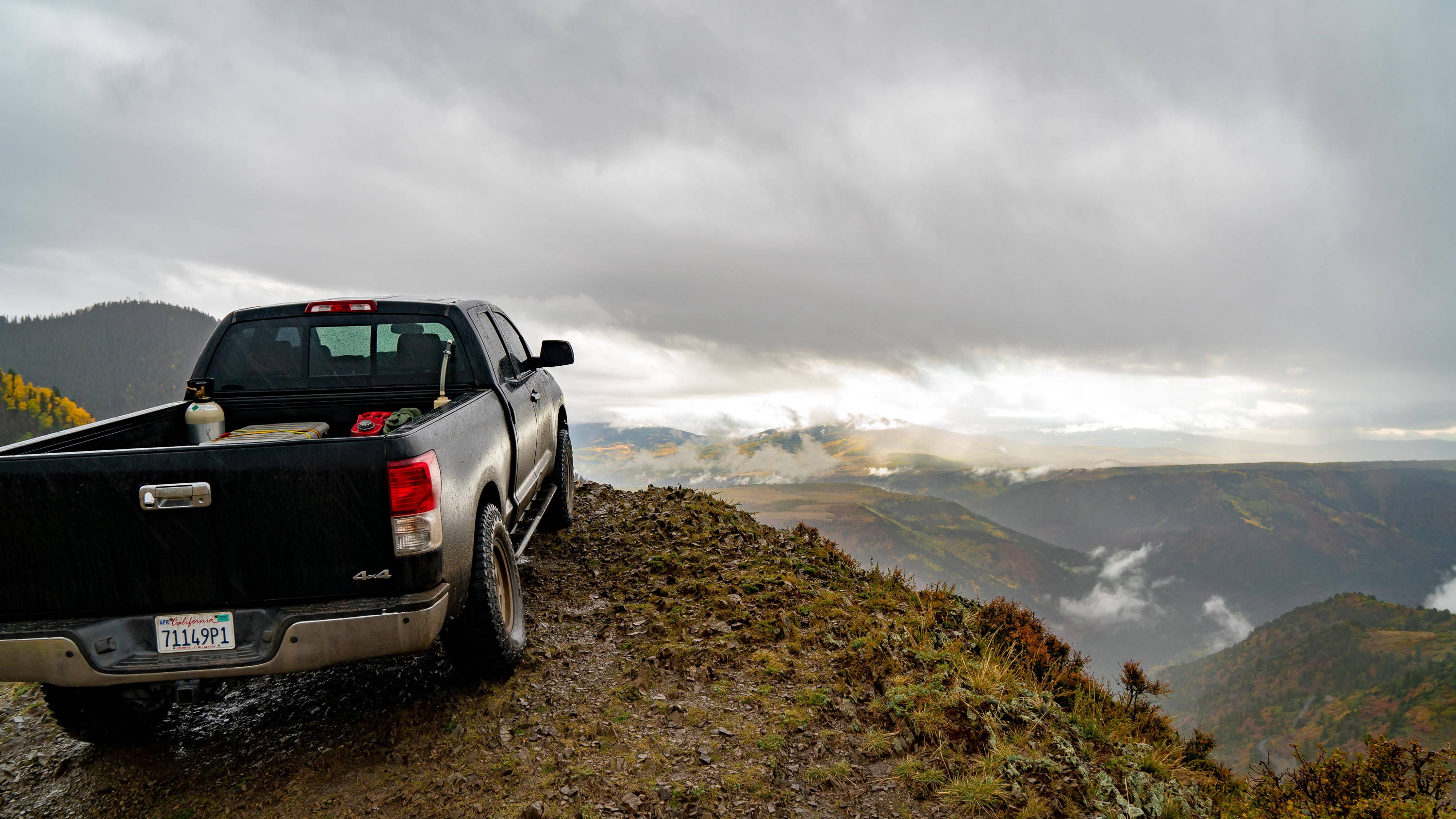 ---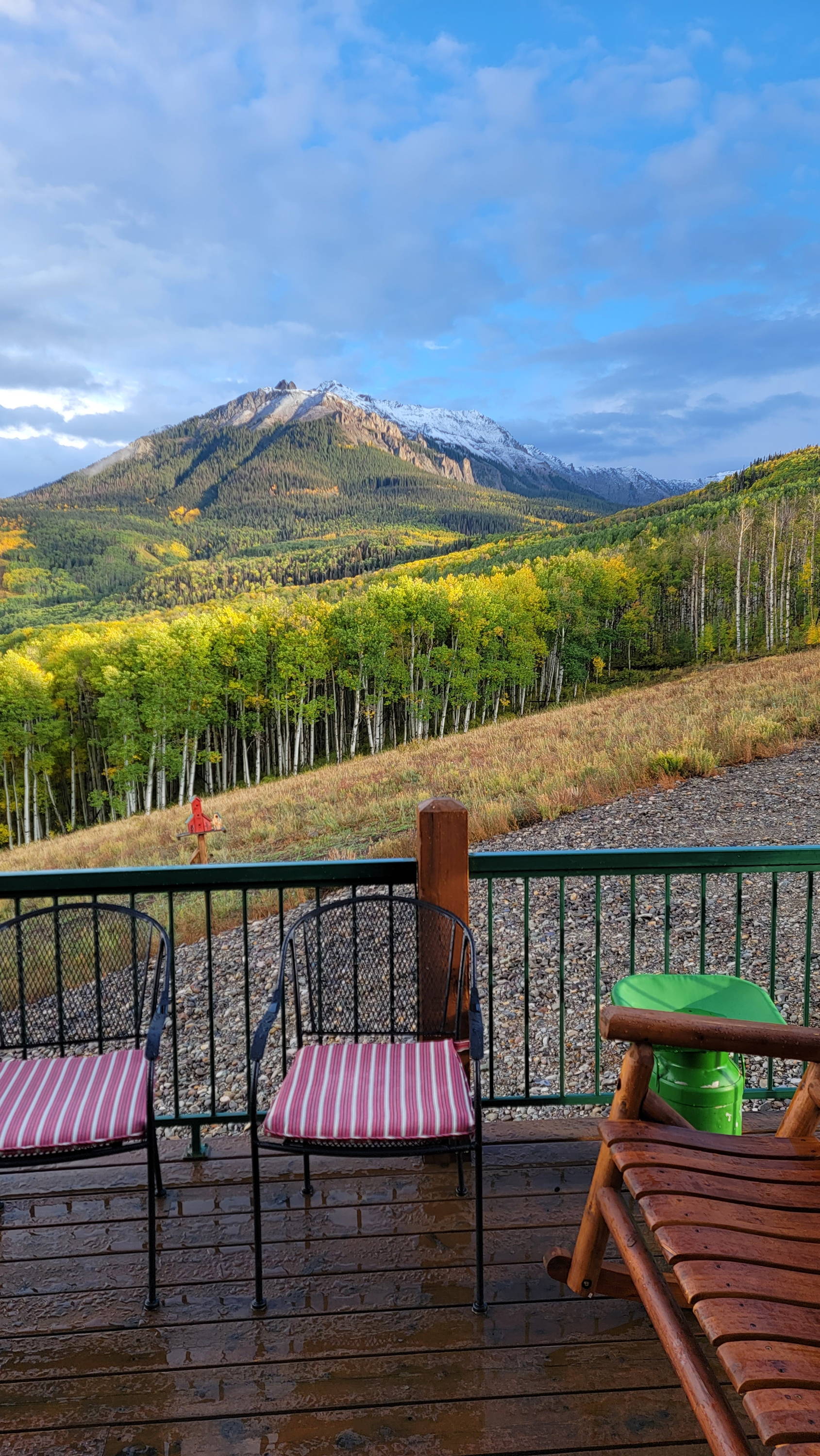 The view from their place was incredible.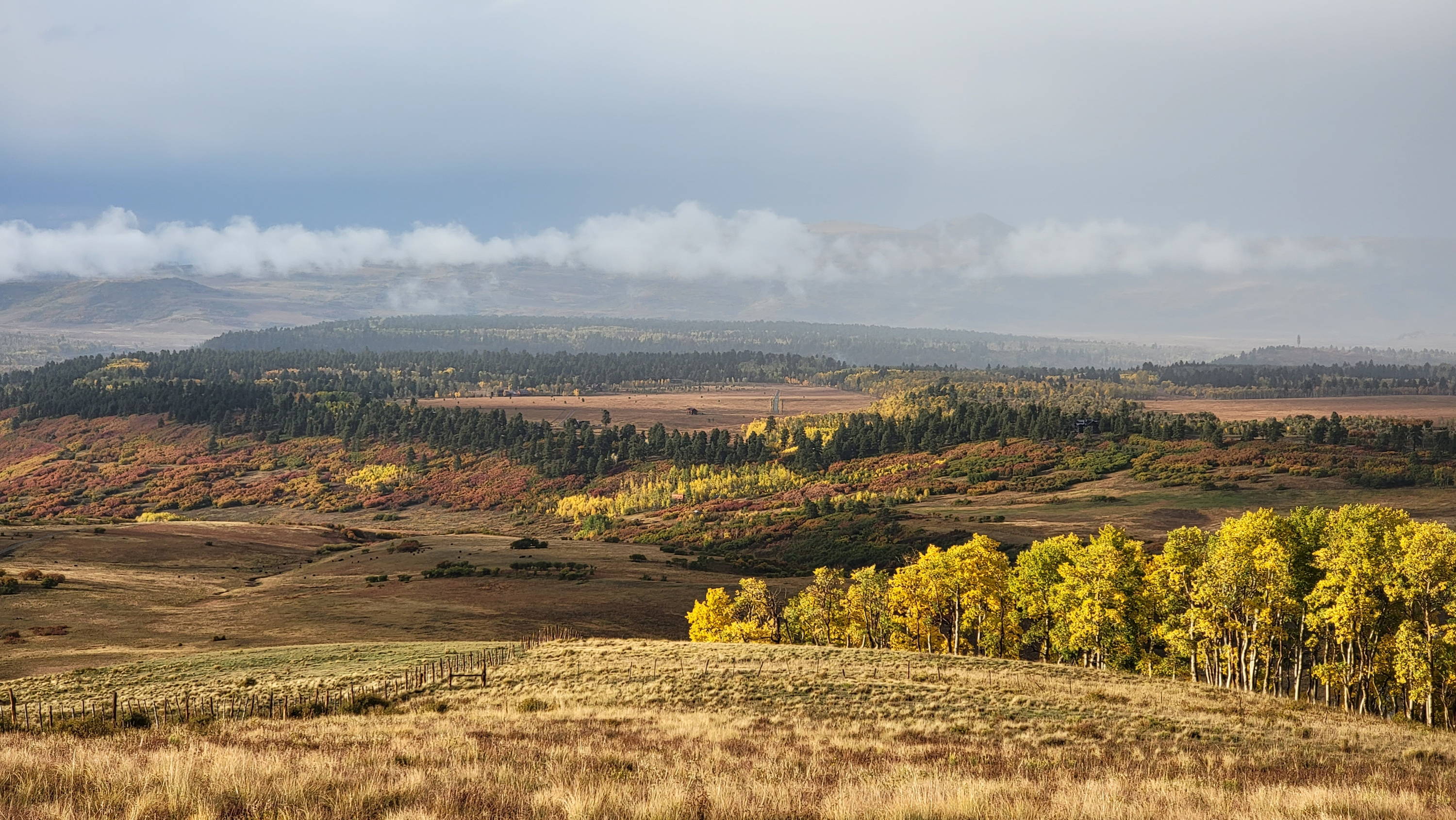 ---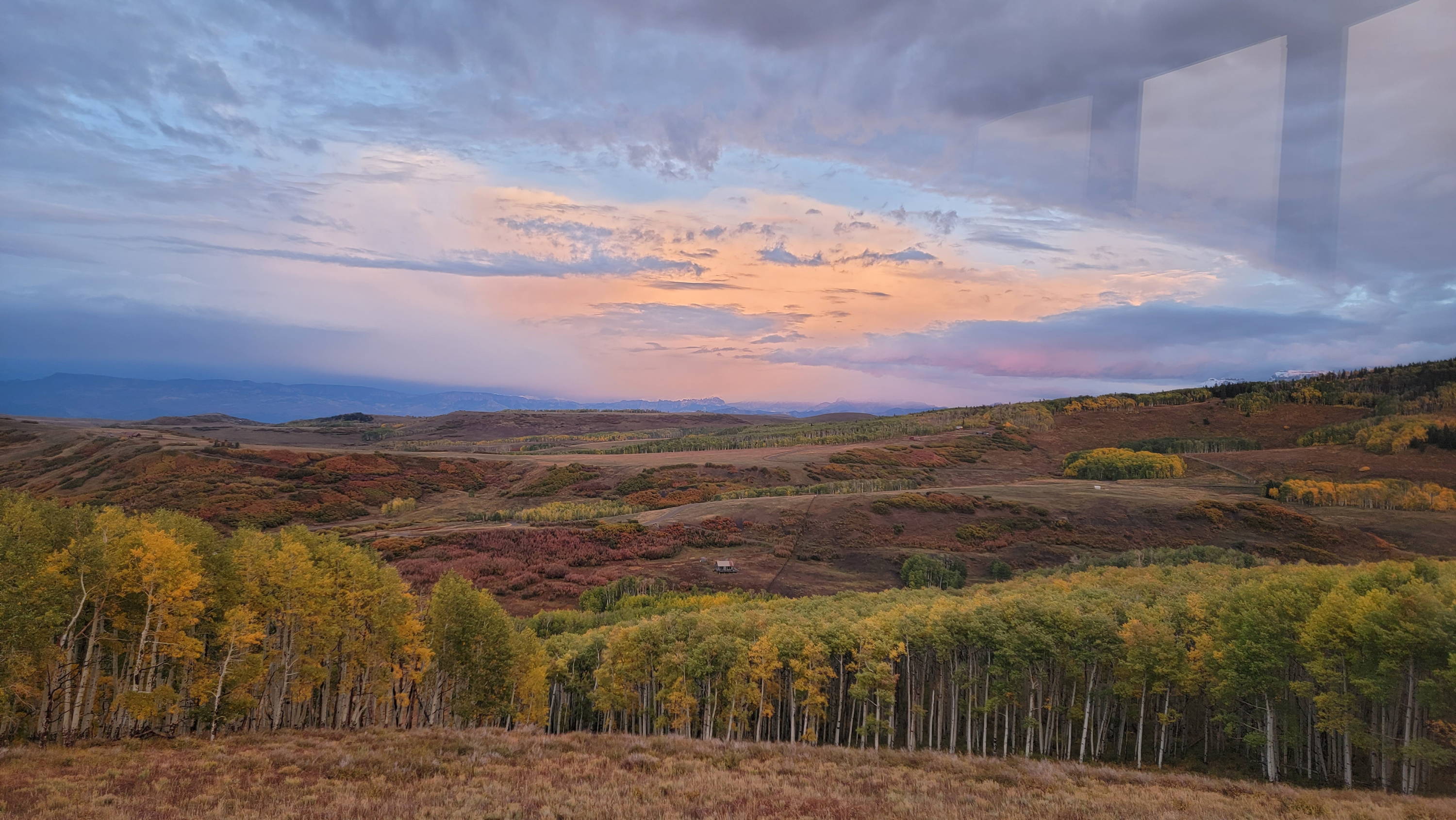 ---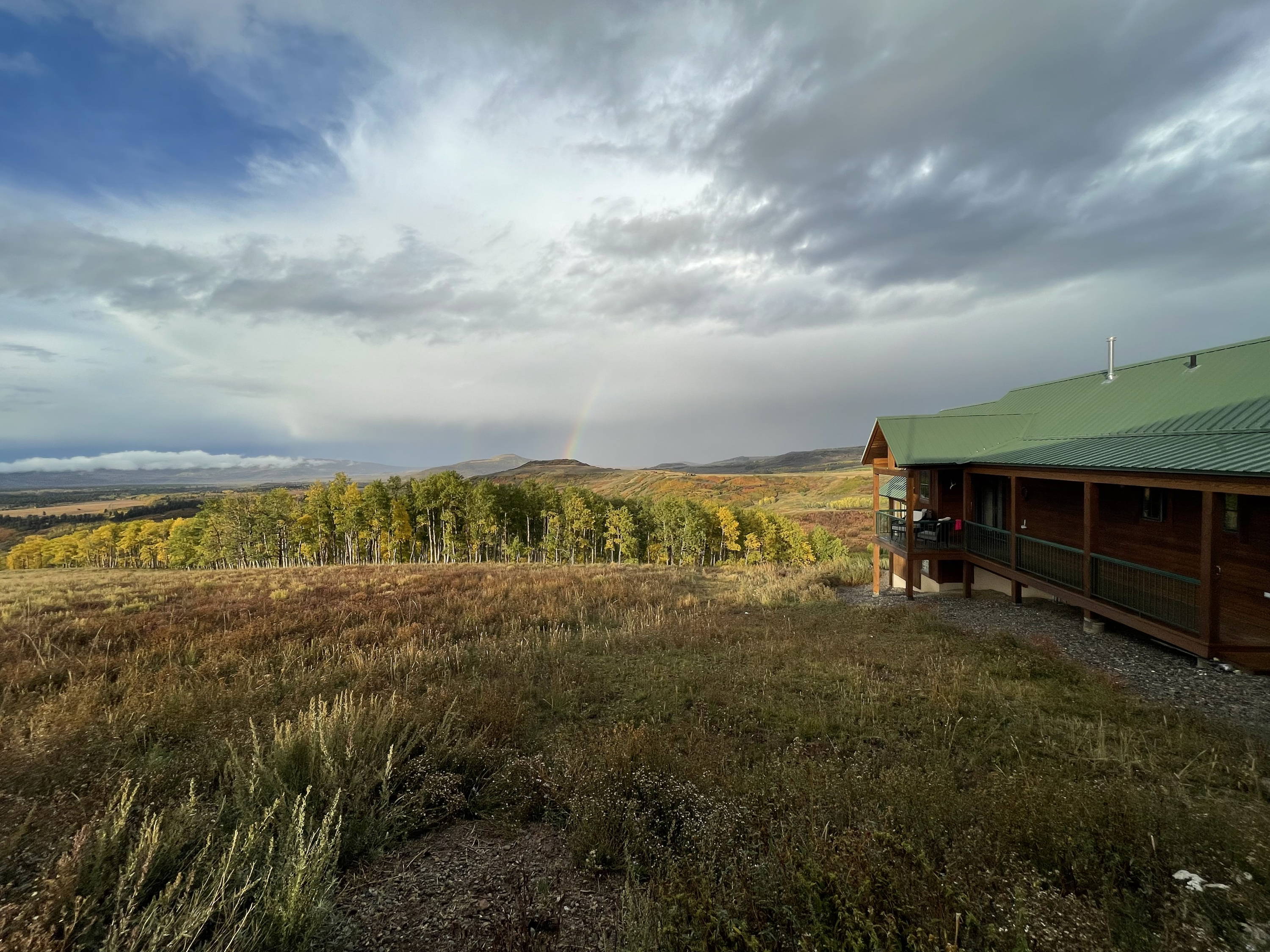 ---